Syndicated Lending
Enroll Now
Advanced level
Approx 3.5 to complete
100% online and self-paced
Syndicated Lending Course Overview
This Syndicated Lending course unpacks the core concepts behind syndicated lending. We will look at what syndicated lending is and why it is important for both clients and banks. By taking this course, you will examine and participate in the syndicated lending process from start to finish.
This Syndicated Lending course will lead you through a case as you explore and apply the concepts of syndicated lending to a real example. This course is designed to prepare you for real lending situations as a credit analyst.
Syndicated Lending Learning Objectives
Upon completing this course, you will be able to:
Understand what syndicated lending is and why it is important to borrowers
Understand the importance and attractiveness of syndicated lending to banks
Appreciate how credit risk can be transferred through syndicated lending
Map the syndicated lending process from initiation through execution
Explore how fees are structured and charged
Syndicated Lending is an Elective Course of CFI's CBCA® Program
CFI's Certified Banking & Credit Analyst (CBCA)® Program offers skills including credit evaluation, documentation, and review procedures. From beginners to advanced users, the CBCA® program is designed to help you become a world-class credit analyst. 
Who Should Take This CBCA® Course?
This Syndicated Lending course is created for credit analysts that aspire to work at a major financial institution. This course explores concepts that are used every day in lending institutions and provides real scenarios that you will encounter as a credit analyst. 
By covering the entire syndicated lending process, you will obtain perspective on what it is like to work on some of the largest deals in the financial world. The exercises and tools explored in this course will be useful for any financial analyst that wishes to work in credit analysis, business banking, commercial banking, corporate banking, and other areas of lending and credit evaluation.
Get the course in a bundle
Syndicated Lending is part of the Commercial Banking & Credit Analyst (CBCA)™ certification, which includes 34 courses.
Commercial Banking & Credit Analyst (CBCA)™ Certification
All 34 CBCA™ courses
Skills Learned Credit Analysis and Documentation, Risk Mitigation, Writing
Career Prep Rating Agencies, Insurance, Commercial Lending
Prep Courses
6 courses from beginner to intermediate level.
01
Optional
Core Courses
15 courses from beginner to intermediate level.
02
Required
Elective Courses
9 courses in advanced and intermediate levels.
03
Optional
Get Certified
Submit your CBCA™ checklist and order your certificate.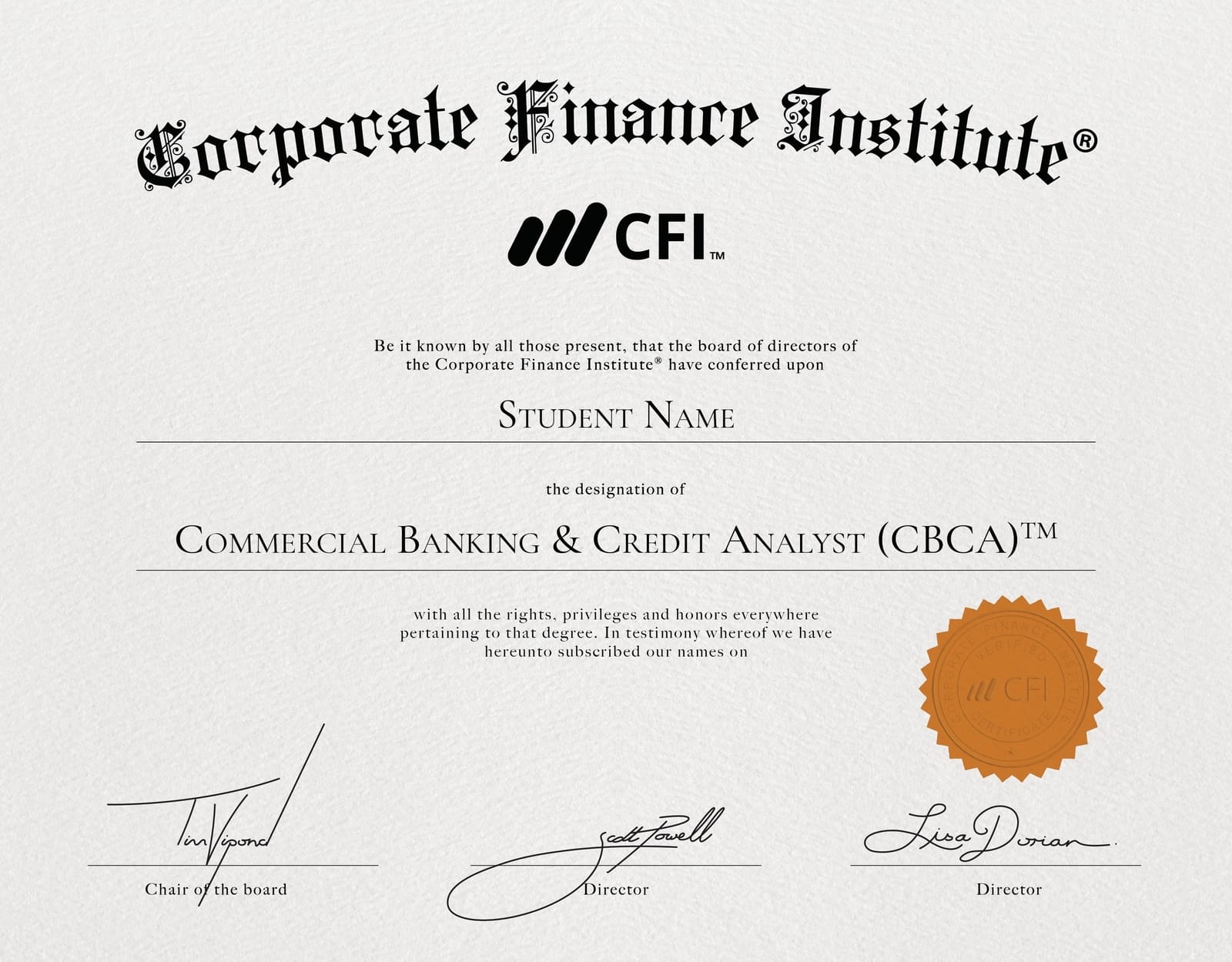 04
Required
Join Our Community
Get access to the Global Corporate Finance Society.
05
Optional
How the Certification Works
Commercial Banking & Credit Analyst (CBCA)™ courses are offered 100% online, allowing you the flexibility to start the Commercial Banking & Credit Analyst (CBCA)™ program anytime and learn when it's most convenient for you.
Students must complete all core and elective courses (18 in total) and demonstrate mastery of the topics through successful completion of course materials, quizzes, and assessments.
Within 48 hours of program completion, your Blockchain Verified (CBCA)™ Certification will be emailed to you.
Syndicated Lending
The course is good for understanding the basics of Syndicated Lending.
VENUGOPAL RAJAMANURI
Very thorough presentation of syndicated lending.
The course has been delivered in a very proper and interesting manner. I really enjoyed the CFI's Bloomberg screen with a recent example of Covid-19 in this course. To be short, I received very good knowledge on syndicated lending from this program. I genuinely thank CFI for providing that new course.
Andrii Vasylchenko
Syndicate Loans
Well presented and easy to follow and understand material. Gives you a great overview without going into too much detail.
Domenico Pecora
Excellent course!!!
The instructor was very detailed and understandable. The material covered a lot of information. I have been an Asset Based Lending field examiner for over 25 years, and this course was an eye opener on many points I was unaware about Syndicated Lending. Excellent job! Excellent topic! Awesome learning experience.
Guillermo Muniz
See More
Frequently Asked Questions
Can I download the Excel files and financial modeling templates for the course?
How long do I have to complete the courses?
Are CFI courses officially accredited?
Are there any additional fees or costs?
What currency are your courses priced in?
How do I earn my certificates?
Can I email the instructor if I have questions?
Will these courses help me advance my career?