Real Estate Fundamentals
Enroll Now
Free Preview
Intermediate level
Approx 3.0 to complete
100% online and self-paced
Real Estate Fundamentals Course Overview
This Real Estate Fundamentals course examines the core concepts of real estate lending. We will look at the different commercial real estate loan types and the factors real estate lenders must consider when lending for different properties.
This Real Estate Fundamentals course will also explore the timeline and process of real estate transactions and give you a practical demonstration of real estate credit analysis.
Real Estate Fundamentals Learning Objectives
Upon completing this course, you will be able to:
Identify differences and similarities between commercial real estate loan types
Interpret key underwriting parameters for commercial real estate lending
Compare equity lending and cash flow lending
Calculate lending ratios and appropriate loan amounts
Explain the timeline and end-to-end process of a commercial real estate transaction
Real Estate Fundamentals is an Elective Course of CFI's CBCA® Program
CFI's Certified Banking & Credit Analyst (CBCA)® Program offers skills including credit evaluation, documentation, and review procedures. From beginners to advanced users, the CBCA® program is designed to help you become a world-class credit analyst. 
Who Should Take This CBCA® Course?
This Real Estate Fundamentals course is perfect for any aspiring credit analyst that would like to make a career for themselves in the real estate lending sector. This course explores concepts that will be useful for beginner and intermediate level banking and real estate professionals, or business and finance students seeking to better understand commercial real estate financing.
The exercises and tools explored in this course will also be useful for any financial analyst that wishes to work in credit analysis, business banking, commercial banking and lending and other areas of credit evaluation as well as relationship management and risk management.
Get the course in a bundle
Real Estate Fundamentals is part of the Commercial Banking & Credit Analyst (CBCA)™ certification, which includes 34 courses.
Commercial Banking & Credit Analyst (CBCA)™ Certification
All 34 CBCA™ courses
Skills Learned Credit Analysis and Documentation, Risk Mitigation, Writing
Career Prep Rating Agencies, Insurance, Commercial Lending
Prep Courses
6 courses from beginner to intermediate level.
01
Optional
Core Courses
15 courses from beginner to intermediate level.
02
Required
Elective Courses
9 courses in advanced and intermediate levels.
03
Optional
Get Certified
Submit your CBCA™ checklist and order your certificate.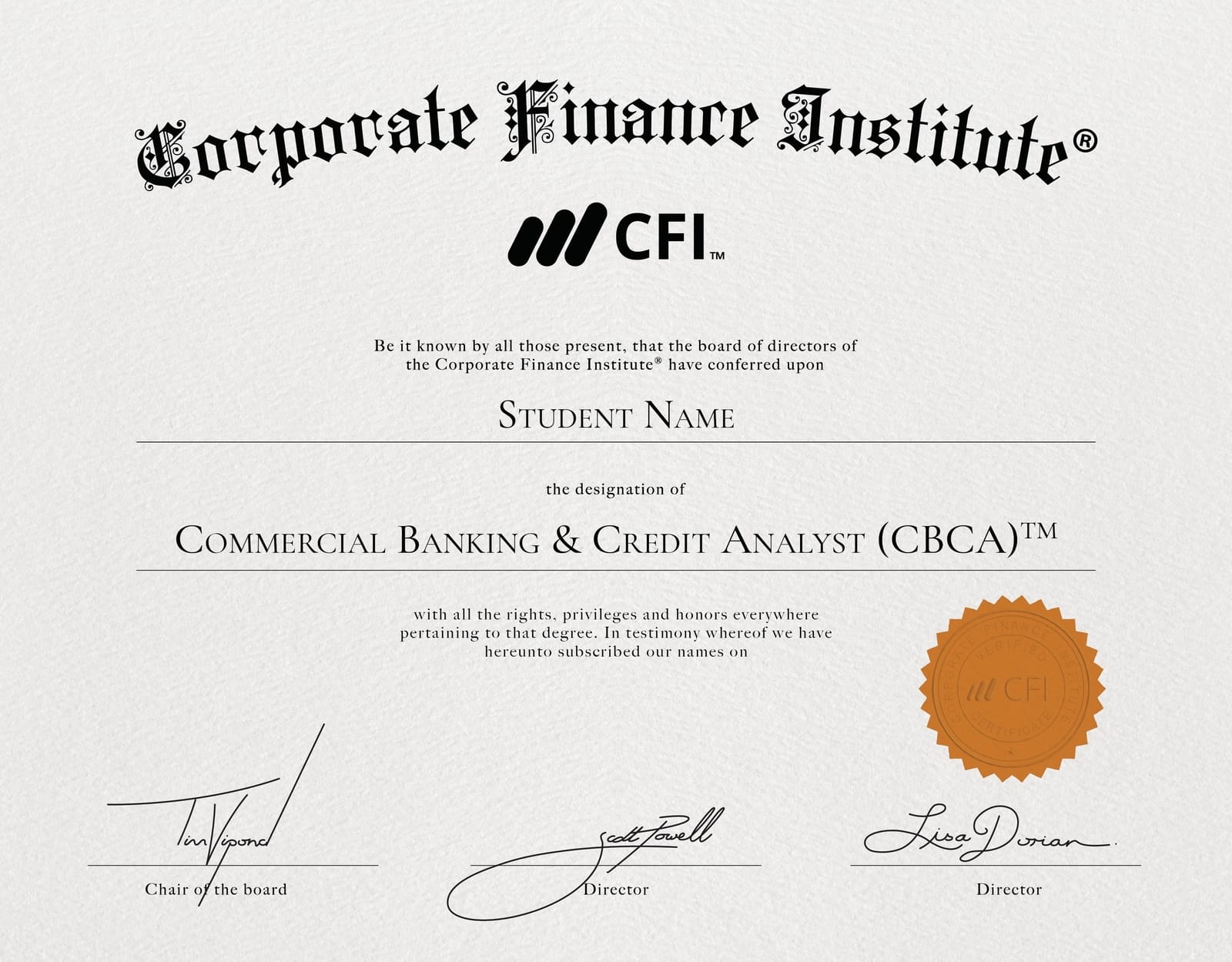 04
Required
Join Our Community
Get access to the Global Corporate Finance Society.
05
Optional
How the Certification Works
Commercial Banking & Credit Analyst (CBCA)™ courses are offered 100% online, allowing you the flexibility to start the Commercial Banking & Credit Analyst (CBCA)™ program anytime and learn when it's most convenient for you.
Students must complete all core and elective courses (18 in total) and demonstrate mastery of the topics through successful completion of course materials, quizzes, and assessments.
Within 48 hours of program completion, your Blockchain Verified (CBCA)™ Certification will be emailed to you.
Real estate
And I learned from this course many information about real state
Ahmed Amin
olajide
the course is very comprehensive and informative. thank you
Sodiq Olajide (ACA)
Great course
Hoping to enter into real estate in the near future. Taking this course is an eye opener
NATHANIEL NARTEY TETTEH
From freshman to Senior in a matter of months!
This type of courses enhances my skills required to be an M&A specialist and build my personal empire made exclusively through transactions and acquisitions.
Christian J. Torres
See More
Frequently Asked Questions
Can I download the Excel files and financial modeling templates for the course?
How long do I have to complete the courses?
Are CFI courses officially accredited?
Are there any additional fees or costs?
What currency are your courses priced in?
How do I earn my certificates?
Can I email the instructor if I have questions?
Will these courses help me advance my career?