Profitable Lead Generation
Enroll Now
Intermediate level
Approx 4.50h to complete
100% online and self-paced
Profitable Lead Generation Course Overview
This Profitable Lead Generation course dives into business development and the lead generation process and explores how to source new business. By breaking down the lead generation process, this course shows you how to identify a target market, sell your personal brand, and sell your product to a prospective client.
This course enables client-facing finance professionals like you to find and attract new business through existing networks and by expanding these networks. We teach the skills and tools required to be successful in business development.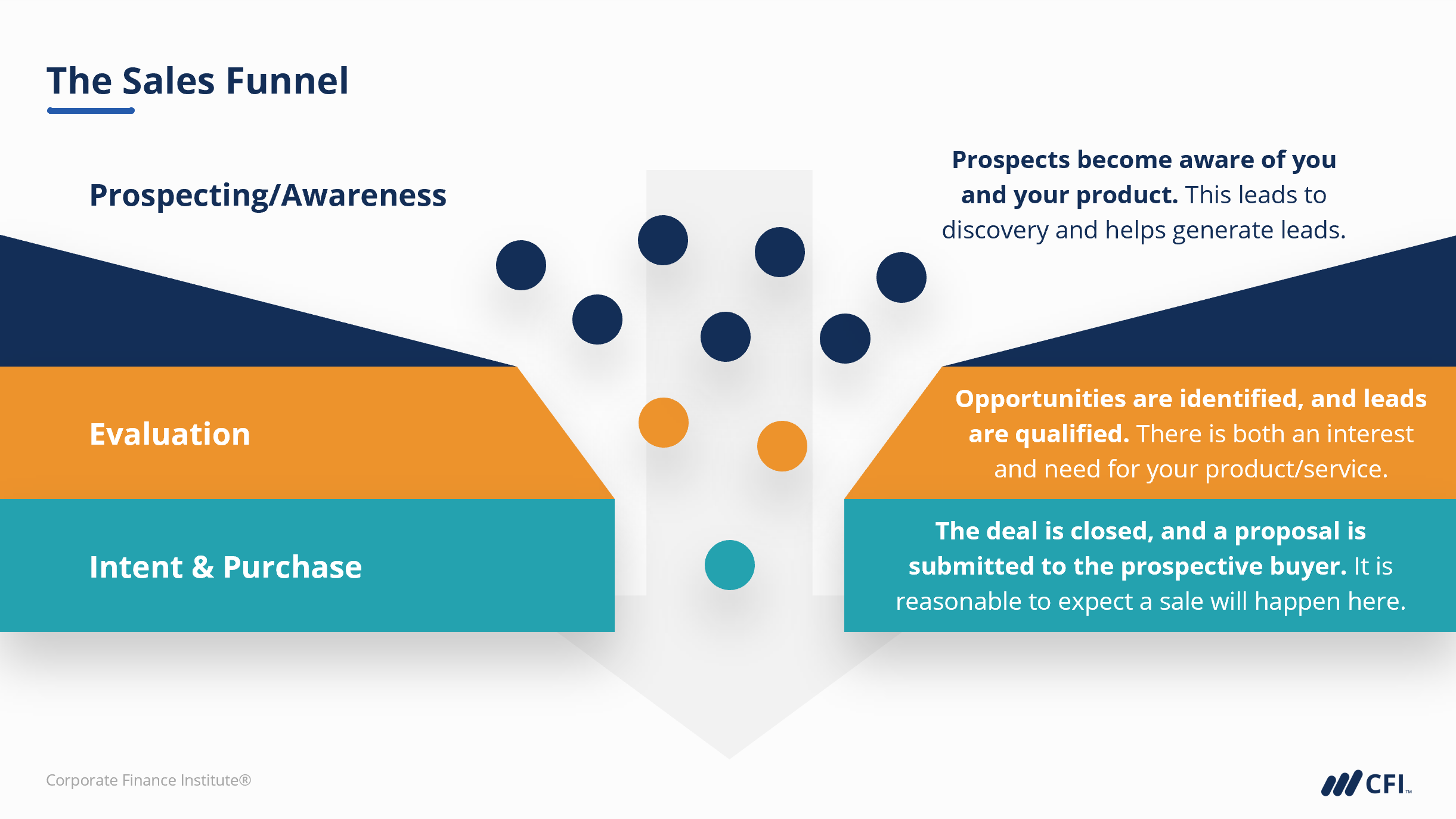 Profitable Lead Generation Course Learning Objectives
Upon completing this course, you will be able to:
Understand the business development process and where lead generation fits in the process
Identify your target market, who you should target, and why it is important to be aware of what your competitors are doing
Find where to source new business and understand the importance of growing both your internal and external networks
Develop your unique selling proposition and your own personal capability statement
Build your social media presence to help gain recognition and build credibility
Undertake targeted calling by developing scripts, getting past gatekeepers, and handling objections
Profitable Lead Generation is an Elective Course of CFI's CBCA® Program
CFI's Commercial Banking & Credit Analyst (CBCA)™ Program offers skills including credit evaluation, documentation, and review procedures. From beginners to advanced users, the CBCA® program is designed to help you become a world-class commercial banker or credit analyst.
Who Should Take This CBCA® Course?
This Profitable Lead Generation course is designed for current and aspiring commercial bankers, credit analysts, and other client-facing finance professionals. It is important for anyone in these roles to know how to brand themselves and sell a product. This course provides the tools needed to grow internal and external networks, source new business, and communicate with prospective clients.
Get the course in a bundle
Profitable Lead Generation is part of the Commercial Banking & Credit Analyst (CBCA)™ certification, which includes 35 courses.
Commercial Banking & Credit Analyst (CBCA)™ Certification
All 35 CBCA™ courses
Skills Learned Credit Analysis and Documentation, Risk Mitigation, Writing
Career Prep Rating Agencies, Insurance, Commercial Lending
Prep Courses
7 courses from beginner to intermediate level.
01
Optional
Core Courses
16 courses from beginner to intermediate level.
02
Required
Elective Courses
10 courses in advanced and intermediate levels.
03
Optional
Get Certified
Submit your CBCA™ checklist and order your certificate.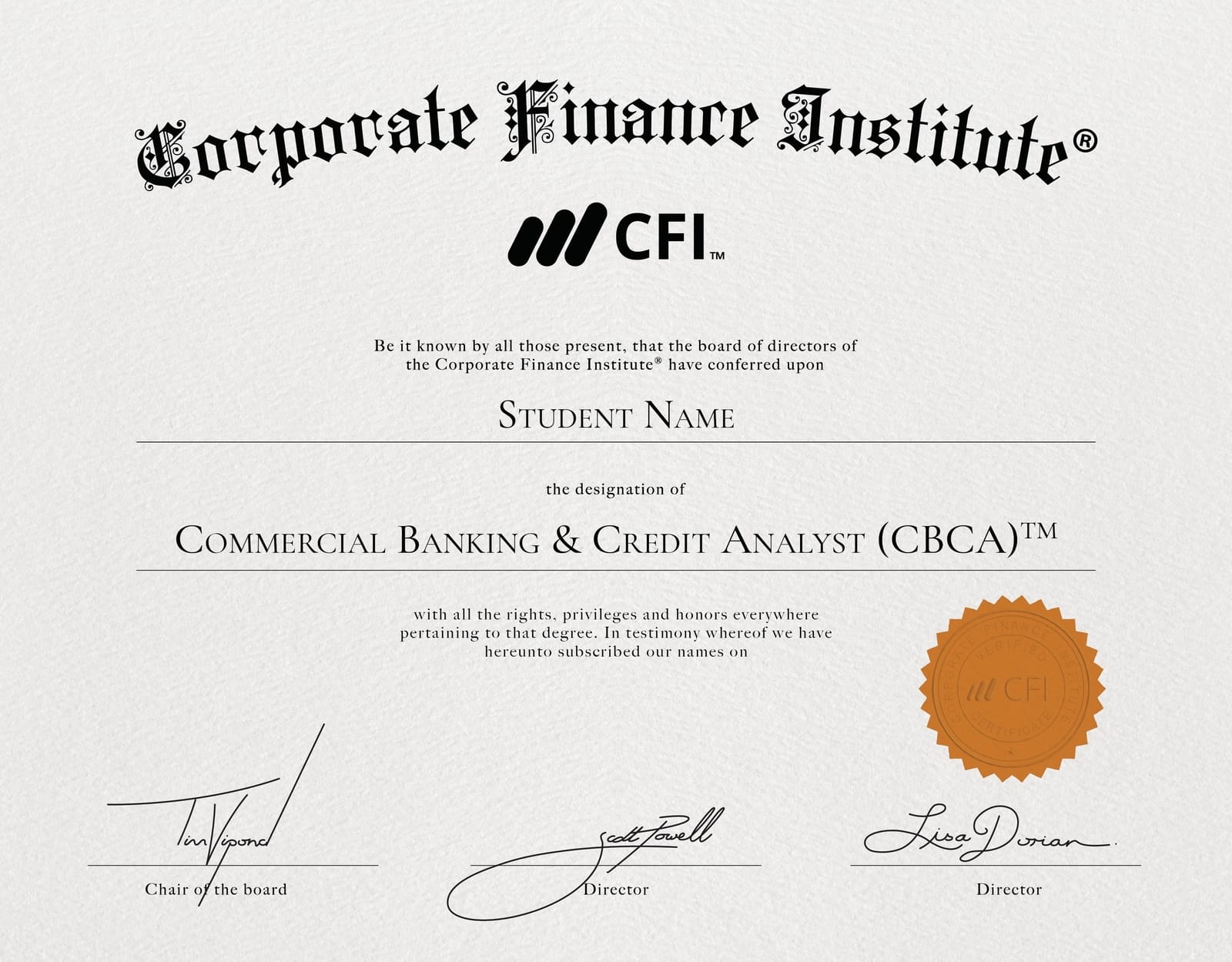 04
Required
Join Our Community
Get access to the Global Corporate Finance Society.
05
Optional
How the Certification Works
Commercial Banking & Credit Analyst (CBCA)™ courses are offered 100% online, allowing you the flexibility to start the Commercial Banking & Credit Analyst (CBCA)™ program anytime and learn when it's most convenient for you.
Students must complete all core and elective courses (18 in total) and demonstrate mastery of the topics through successful completion of course materials, quizzes, and assessments.
Within 48 hours of program completion, your Blockchain Verified (CBCA)™ Certification will be emailed to you.
Frequently Asked Questions
Can I download the Excel files and financial modeling templates for the course?
How long do I have to complete the courses?
Are CFI courses officially accredited?
Are there any additional fees or costs?
What currency are your courses priced in?
How do I earn my certificates?
Can I email the instructor if I have questions?
Will these courses help me advance my career?