Macabacus Essentials
Enroll For Free
Beginner level
Approx 1.5 to complete
100% online and self-paced
Macabacus Essentials Course Overview
Macabacus is a powerful tool that makes financial analysts more productive and have better brand compliance when performing their work across Microsoft Office Applications including Excel, PowerPoint and Word. In this Macabacus Essentials course, we will walk through the most popular features and functions that expedite financial analysis and modeling process, create error-free reports, and ensure consistency in styling and formatting. Macabacus is CFI's proprietary software, and all students are eligible for free trial access to the Macabacus add-in.
To download the Macabacus Microsoft Office add-ins, please visit https://macabacus.com/downloads and follow the instructions to download and install the software, then activate your free trial by following the instructions on your CFI student dashboard > Integrations > Macabacus Integrations.
Macabacus Essentials Learning Objectives
Upon completing this course, you will be able to:
Utilize keyboard shortcuts to speed up your analysis and modeling process
Generate financial ratios and summary statistics in the blink of an eye using Macabacus' advanced formulas in Excel
Visualize and audit financial data with Macabacus' charts and auditing tools
Link data directly from your Excel workbooks to PowerPoint presentations
Create dynamic and flawless PowerPoint presentations with Macabacus' powerful add-in features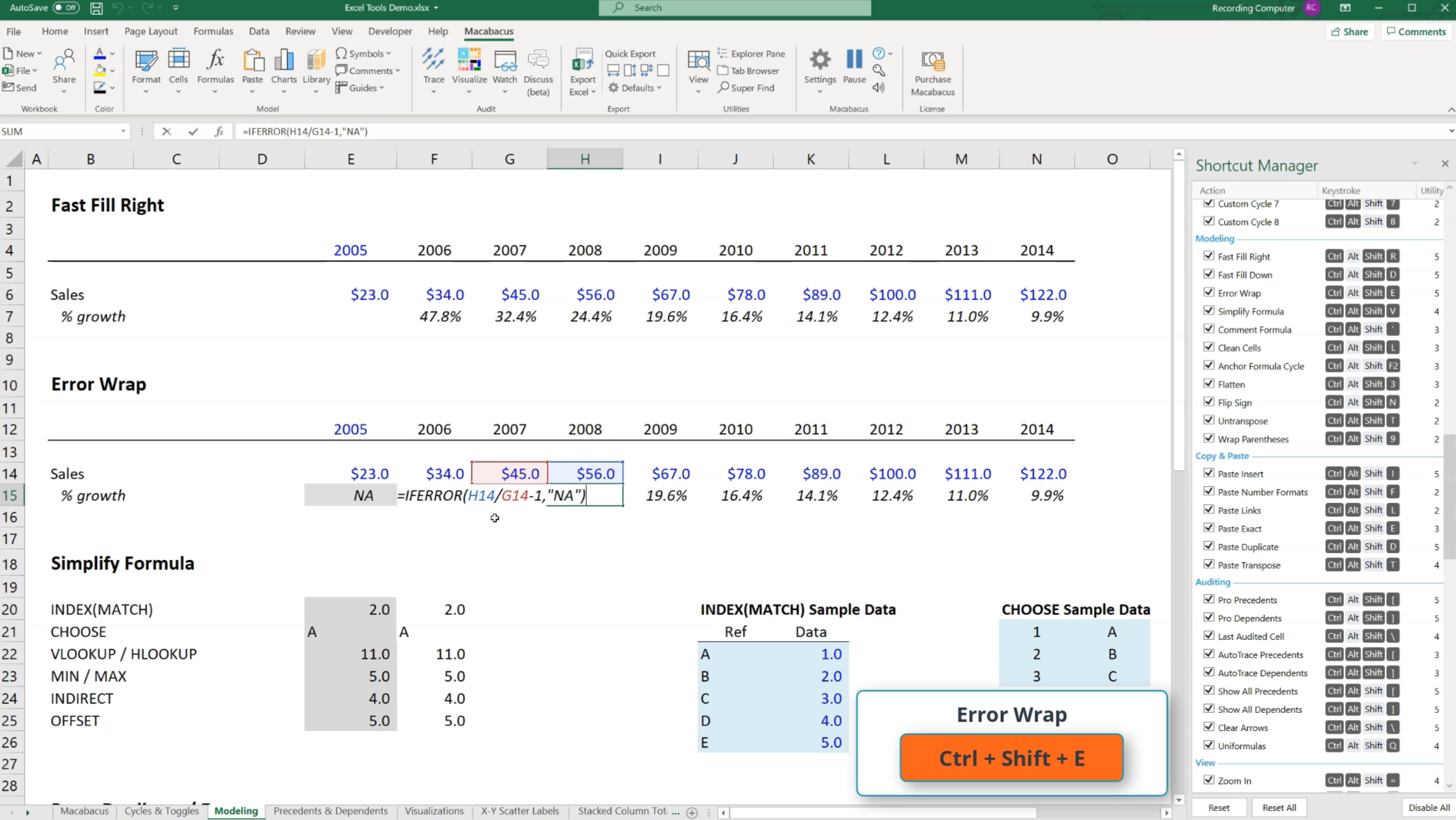 Macabacus Essentials is a prep course of CFI's FMVA® Program
CFI's Financial Modeling & Valuation Analyst (FMVA)® Program covers a critical body of knowledge that is necessary to become a world-class financial analyst, including financial analysis, financial modeling, valuation, dashboards, and data visualization. This program is designed in a practical and comprehensive way to help students grasp the in-demand industry knowledge and close the skills gap.
Who should take this Macabacus course?
Macabacus is a Microsoft Office productivity and brand compliance add-in that empowers finance professionals in building robust financial models and presentations. Anyone who would like to start a career or currently works in investment banking, financial planning and analysis (FP&A), corporate development, equity research, and other areas of corporate finance would benefit from learning about Macabacus' key features and applying them in their daily jobs to become more effective and efficient.

Get the course in a bundle
Macabacus Essentials
Financial Modeling & Valuation Analyst (FMVA)® Certification
All 32 FMVA® courses
Skills Learned Financial Modeling and Valuation, Sensitivity Analysis, Strategy
Career Prep Investment Banking and Equity Research, FP&A, Corporate Development
Prerequisite Courses
8 courses from beginner to intermediate level.
01
Optional
Core Courses
12 courses from beginner to intermediate level.
02
Required
Elective Courses
Take 3 out of 13 courses at an advanced level.
03
Required
Get Certified
Submit your FMVA® checklist and order your certificate.
04
Required
Join Our Community
Get access to the Global Corporate Finance Society.
05
Optional
How the Certification Works
FMVA® Financial Analyst Certification courses are offered 100% online, allowing you the flexibility to start the financial analyst program anytime and learn when it's most convenient for you.
Students must complete all core and elective courses (14 in total) and demonstrate mastery of the topics through successful completion of course materials, quizzes, and assessments.
Within 48 hours of program completion, your Blockchain Verified FMVA Certification will be emailed to you.
Macabacus analyst tool
I have completed this course and extremely happy with this tool which I was not aware of it's really helpful to save our time as well as fast and effective work we can perform, Thankyou CFI for such wonderful course
Neeraj Gupta
FMVA self study
I didn't know that anything like Macacabus existed. Amazing tool to work with. This course has increase my horizon. Loving excel even more!
Fatima Harris
Great tool to learn and expolore
Thank you for adding this wonderful Excel Add-in tool - Macabacus. Definitely, would like to explore more about this. It is very interesting tool to do the things right at the first time, accurate and fast. Excel is always a first choice for any sort of calculation, but Macabacus is great. Its like Cherry on top of an Ice cream.
Anand Madhusudan Inamdar
Wonderfull Tool.
Thanks for allowing me to try this tool. Incredible time saver!
Beatriz Zambrano
See More
Frequently Asked Questions
Can I download the Excel files and financial modeling templates for the course?
How long do I have to complete the courses?
Are CFI courses officially accredited?
Are there any additional fees or costs?
What currency are your courses priced in?
How do I earn my certificates?
Can I email the instructor if I have questions?
Will these courses help me advance my career?