Loan Pricing
Enroll Now
Advanced level
Approx 4h to complete
100% online and self-paced
Loan Pricing Course Overview
This Loan Pricing course looks at the fundamentals and factors that banks consider when pricing a loan. We will look at how interest rates, loan structures, and different characteristics of a loan can affect the loan's pricing.
This Loan Pricing course will also explore how a bank earns revenue and what affects its profitability. This course will include an interactive case study that shows you a practical demonstration using a risk rating and profitability model in Excel. We will also cover different levers that can be used by a credit analyst during client negotiations, and how they can affect the pricing and profitability of a loan. 
Loan Pricing Learning Objectives
Upon completing this course, you will be able to:
Explain debt as a funding source, its pros, and its cons
Identify loan types and their relative degree of profitability
Define risk-adjusted return, and risk-adjusted return on capital
Calculate and interpret an example risk rating
Recommend pricing structures based on risk rating and loan type
Loan Pricing is an Elective Course of CFI's CBCA® Program
CFI's Certified Banking & Credit Analyst (CBCA)® Program offers skills including credit evaluation, documentation, and review procedures. From beginners to advanced users, the CBCA® program is designed to help you become a world-class credit analyst.
Who Should Take This CBCA® Course?
This Loan Pricing course is designed for current and aspiring Commercial Banking and lending professionals, including Relationship Managers, Credit Analysts, and Risk Management professionals seeking a more comprehensive understanding of loan pricing and profitability.

This course provides a real-world perspective and a hands-on case study outlining how a financial institution would evaluate a client's default risk and how they might structure borrowing accordingly to optimize risk-adjusted return on capital. The practical exercises, case study, and tools explored in this course will be useful for any credit professional or financial analyst that wishes to work in private lending, business banking, commercial banking, or corporate banking
Get the course in a bundle
Loan Pricing is part of the Commercial Banking & Credit Analyst (CBCA)™ certification, which includes 35 courses.
Commercial Banking & Credit Analyst (CBCA)™ Certification
All 35 CBCA™ courses
Skills Learned Credit Analysis and Documentation, Risk Mitigation, Writing
Career Prep Rating Agencies, Insurance, Commercial Lending
Prep Courses
7 courses from beginner to intermediate level.
01
Optional
Core Courses
16 courses from beginner to intermediate level.
02
Required
Elective Courses
10 courses in advanced and intermediate levels.
03
Optional
Get Certified
Submit your CBCA™ checklist and order your certificate.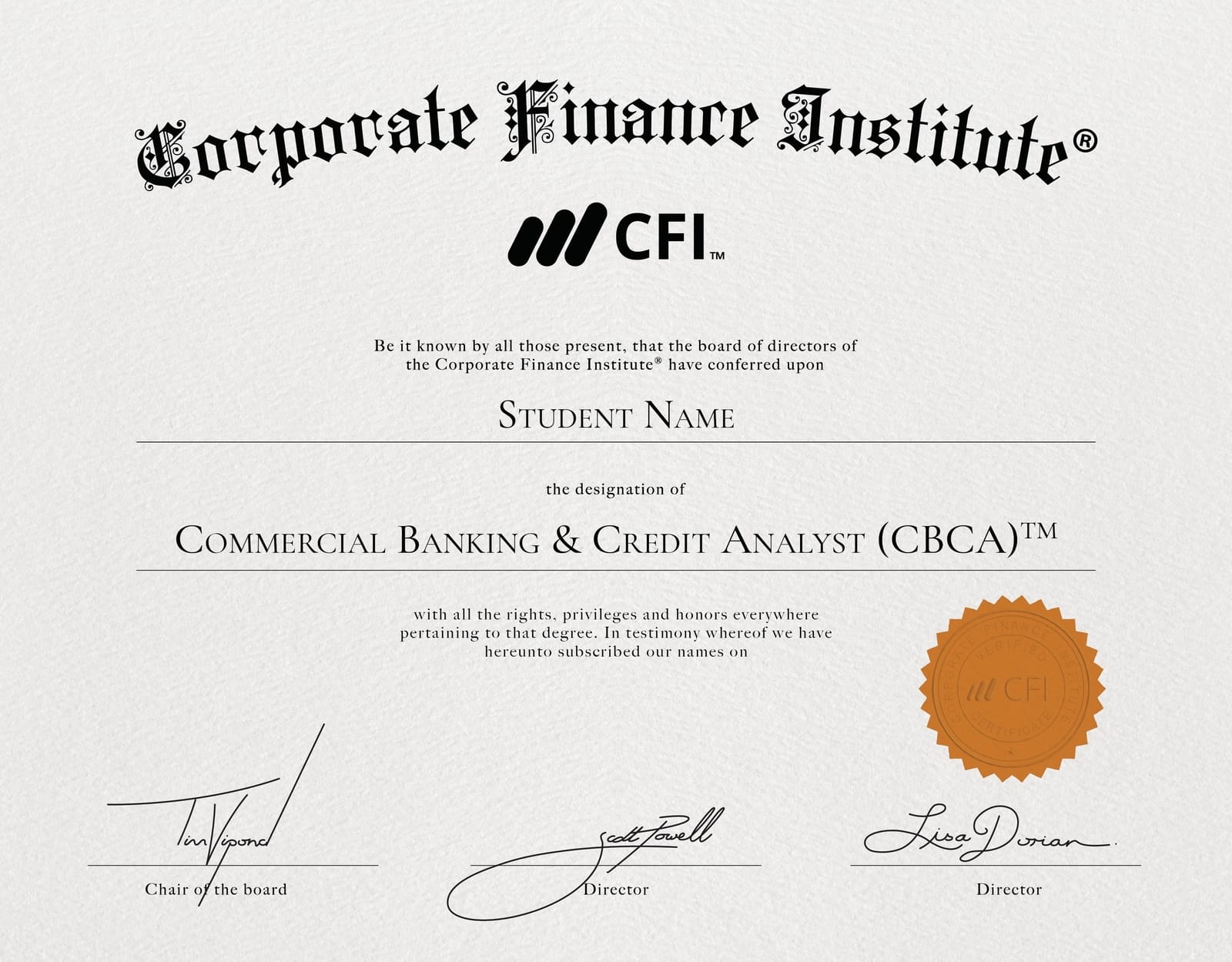 04
Required
Join Our Community
Get access to the Global Corporate Finance Society.
05
Optional
How the Certification Works
Commercial Banking & Credit Analyst (CBCA)™ courses are offered 100% online, allowing you the flexibility to start the Commercial Banking & Credit Analyst (CBCA)™ program anytime and learn when it's most convenient for you.
Students must complete all core and elective courses (18 in total) and demonstrate mastery of the topics through successful completion of course materials, quizzes, and assessments.
Within 48 hours of program completion, your Blockchain Verified (CBCA)™ Certification will be emailed to you.
Loan Pricing
Very good content, good case study and very good delivery.
VENUGOPAL RAJAMANURI
LEARNING FROM WHERE YOU ARE.
All thanks goes to the management team at CFI for the good education services rendered to us all who strive to advance our career.
NABIRYO SALIMA
Loan pricing course
Course provided a clear and good clarity about how loan can priced by bank and as a credit analyst what all are the factors needed to considered while going the analysis and pricing.
Jayakrishnan Murukappan
See More
Frequently Asked Questions
Can I download the Excel files and financial modeling templates for the course?
How long do I have to complete the courses?
Are CFI courses officially accredited?
Are there any additional fees or costs?
What currency are your courses priced in?
How do I earn my certificates?
Can I email the instructor if I have questions?
Will these courses help me advance my career?