Introduction to Banking
Enroll For Free
Beginner level
Approx 2.0 to complete
100% online and self-paced
Introduction to Banking Course Overview
This Introductory course covers the fundamental knowledge about the banking industry. We will discuss the various types of financial institutions and how they differ in the types or products and services provided to their own customer groups. We can look at a bank's balance sheet and income statement and understand how a bank generates return. Finally, we will explore the common career paths in different areas of banking.
Introduction to Banking Learning Objectives
Upon completing this course, you will be able to:
Understand the different types/structures of financial services firms
Determine the different types of banking services that are provided
Understand who the customers are for each type of service
Learn how a bank makes money
Differentiate the various banking career paths
Introduction to Banking is a Prep Course of CFI's CBCA® Program
CFI's Certified Banking & Credit Analyst (CBCA)® Program offers skills including credit evaluation, documentation, and review procedures. For beginners to advanced users, the CBCA® program is designed to help you become a world-class credit analyst.
Who Should Take This CBCA® Course?
This Introduction to Banking course is perfect for any aspiring credit analysts working in insurance, underwriting, rating agencies, commercial lending, corporate credit analysis, and other areas of credit evaluation. It is also a great introductory course for anyone who would like to learn more about the banking industry.
Get the course in a bundle
Introduction to Banking is part of the Commercial Banking & Credit Analyst (CBCA)™ certification, which includes 34 courses.
Commercial Banking & Credit Analyst (CBCA)™ Certification
All 34 CBCA™ courses
Skills Learned Credit Analysis and Documentation, Risk Mitigation, Writing
Career Prep Rating Agencies, Insurance, Commercial Lending
Prep Courses
6 courses from beginner to intermediate level.
01
Optional
Core Courses
15 courses from beginner to intermediate level.
02
Required
Elective Courses
9 courses in advanced and intermediate levels.
03
Optional
Get Certified
Submit your CBCA™ checklist and order your certificate.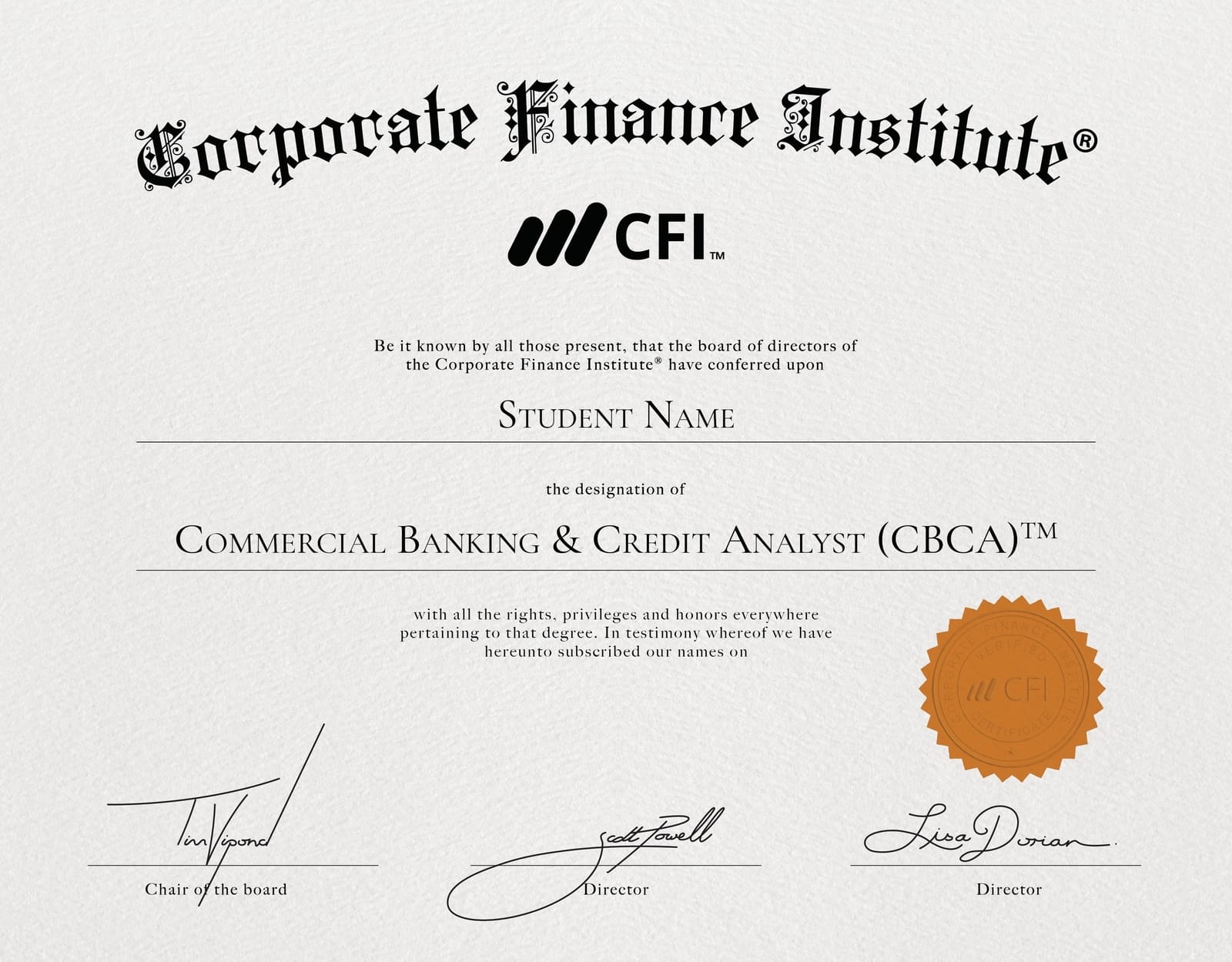 04
Required
Join Our Community
Get access to the Global Corporate Finance Society.
05
Optional
How the Certification Works
Commercial Banking & Credit Analyst (CBCA)™ courses are offered 100% online, allowing you the flexibility to start the Commercial Banking & Credit Analyst (CBCA)™ program anytime and learn when it's most convenient for you.
Students must complete all core and elective courses (18 in total) and demonstrate mastery of the topics through successful completion of course materials, quizzes, and assessments.
Within 48 hours of program completion, your Blockchain Verified (CBCA)™ Certification will be emailed to you.
Introduction to Banking
This is a very good course for both beginners and refreshers
Kenny Mupuchi Nkolomba

very useful
Prajakta Kerkar
Appreciation
Excellent practice
Ashutosh shaw

Good study material which help to understand better
Ekansh Jain
See More
Frequently Asked Questions
Can I download the Excel files and financial modeling templates for the course?
How long do I have to complete the courses?
Are CFI courses officially accredited?
Are there any additional fees or costs?
What currency are your courses priced in?
How do I earn my certificates?
Can I email the instructor if I have questions?
Will these courses help me advance my career?