Fundamentals of Credit
Enroll For Free
Beginner level
Approx 2.0 to complete
100% online and self-paced
Fundamentals of Credit Course Overview
Interested in a career as a credit analyst? This Fundamentals of Credit course will give an overview of the key concepts you need for a high powered career in commercial banking, credit rating, private lending, insurance, corporate credit, and much more.
In this course, we will discuss the definition of credit and the benefit of using credit as a source of funding for the company. We will look at different types of credit, interest and loans. We will compare the pros and cons associated with different loans.
From there, we will explore the possible career paths of a credit analyst. We will look at the roles and responsibilities of credit analysts for different employers. Then, we will go through the general lending process and explain how a credit analyst evaluates risk. We will provide an overview of industry analysis, business analysis, management analysis, and financial analysis.
This course can be used as a refresher on the topic of credit or for someone that has no prior knowledge about credit analysis.
Fundamentals of Credit Learning Objectives
Upon completing this course, you will be able to: 
Compare three different sources of funding for a company
Explain the benefits and drawbacks for different types of loans
Discuss the general lending process and types of credit analysis
Explore various credit analyst career paths
Fundamentals of Credit Is a Prep Course of CFI's Certified Banking & Credit Analyst (CBCA)® Program
We are excited to launch our first course for the Certified Banking & Credit Analyst (CBCA)® certification program. For beginners to advanced users, this certification program is designed to help you become a world-class credit analyst.
Who Should Take This CBCA® Course?
This Fundamentals of Credit course is perfect for any aspiring credit analysts working in insurance, underwriting, rating agencies, commercial lending, corporate credit analysis, and other areas of credit evaluation.
Get the course in a bundle
Fundamentals of Credit is part of the Commercial Banking & Credit Analyst (CBCA)™ certification, which includes 34 courses.
Commercial Banking & Credit Analyst (CBCA)™ Certification
All 34 CBCA™ courses
Skills Learned Credit Analysis and Documentation, Risk Mitigation, Writing
Career Prep Rating Agencies, Insurance, Commercial Lending
Prep Courses
6 courses from beginner to intermediate level.
01
Optional
Core Courses
15 courses from beginner to intermediate level.
02
Required
Elective Courses
9 courses in advanced and intermediate levels.
03
Optional
Get Certified
Submit your CBCA™ checklist and order your certificate.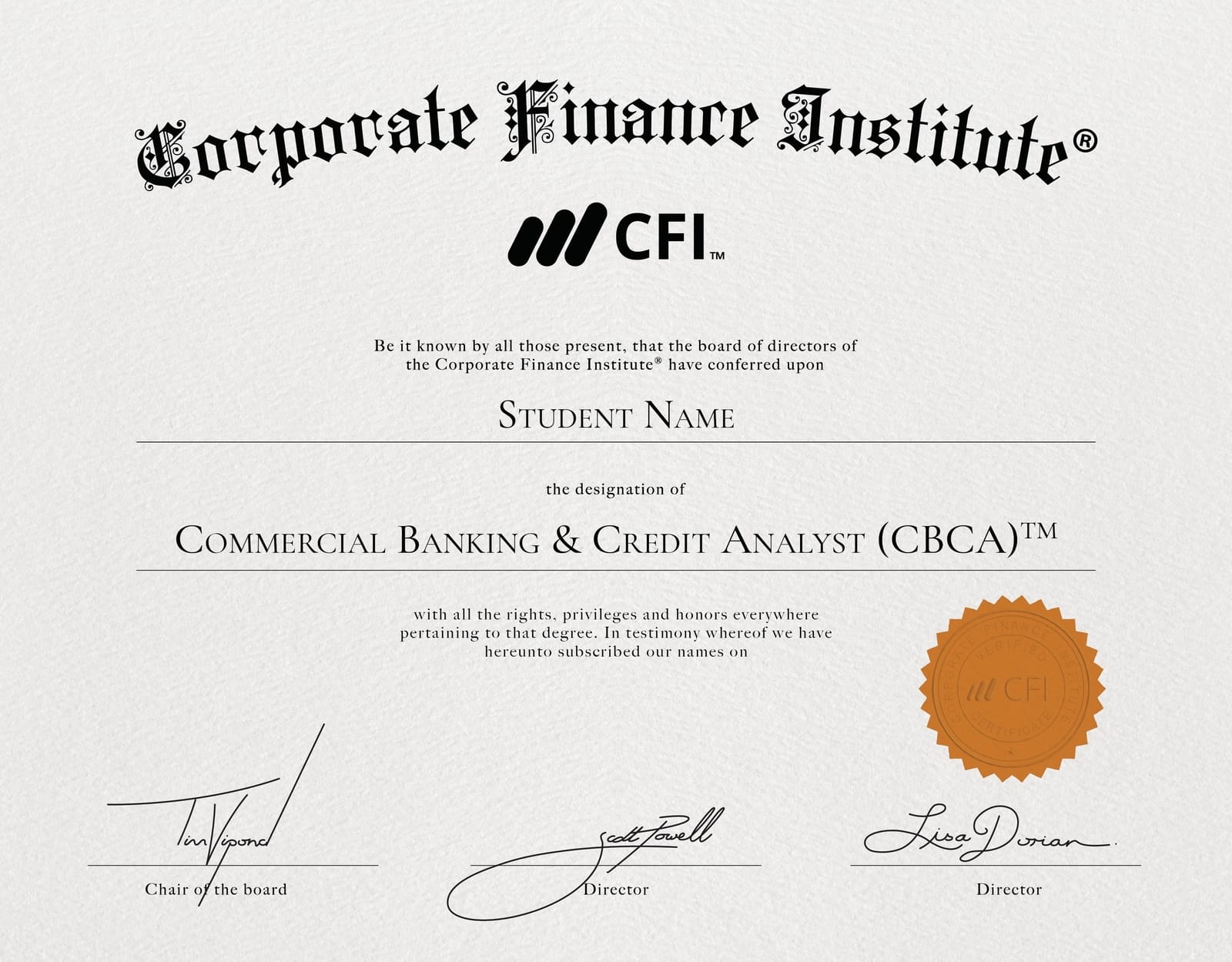 04
Required
Join Our Community
Get access to the Global Corporate Finance Society.
05
Optional
How the Certification Works
Commercial Banking & Credit Analyst (CBCA)™ courses are offered 100% online, allowing you the flexibility to start the Commercial Banking & Credit Analyst (CBCA)™ program anytime and learn when it's most convenient for you.
Students must complete all core and elective courses (18 in total) and demonstrate mastery of the topics through successful completion of course materials, quizzes, and assessments.
Within 48 hours of program completion, your Blockchain Verified (CBCA)™ Certification will be emailed to you.
Fundamentals of credit
It is very knowledgeable course about credit.
Divya kumawat
Fundamental of credits
Good
A.Z.M Sheikh Nazmus Saqib
Good for credit analyst
All the required details are covered for credit analyst
Jay Dhamsania
Great content and delivery
The course is very well designed for all study paces, and the material is easy to understand for everyone. I had the best online course experience.
Neo Masita
See More
Frequently Asked Questions
Can I download the Excel files and financial modeling templates for the course?
How long do I have to complete the courses?
Are CFI courses officially accredited?
Are there any additional fees or costs?
What currency are your courses priced in?
How do I earn my certificates?
Can I email the instructor if I have questions?
Will these courses help me advance my career?