39 Videos

1 Quiz

1 Survey

5 Multimedia

3 Texts

2 Downloads

1 Exam

3.5 hrs
Course Curriculum
Course description
Excel Crash Course Description
In this free Excel tutorial, you will learn all the tips, tricks, shortcuts, functions and formulas you need to be a power user. This free Excel course is designed specifically for spreadsheet users who are already performing professional financial analysis and financial modeling or are looking to prep for a wall street career. Take CFI's Excel Crash Course now to advance your career!
Build a strong foundation in Excel for careers in:
Investment banking
Private equity
Corporate development
Equity research
Financial Planning & Analysis (FP&A)
Excel tutorial on best practices
Learn industry-leading best practices. This free Excel course is based on first-hand investment banking training programs at global banks. The quality of instruction you receive in this course will have you just as sharp as if you took an expensive, live Wall Street course.
Excel tutorial & training details
This free spreadsheet training course starts with the Excel basics and quickly progresses to a more advanced level where even experts will learn something new. We think it's important to start at the bottom and build a solid base, which is why we review all the foundational skills you need before building more advanced spreadsheets. In this Excel tutorial, you'll learn to ditch the mouse and use only keyboard shortcuts to dramatically improve your spreadsheet building skills.
In the second half of the Excel crash course, you'll notice the functions and formulas getting more sophisticated and the quality of financial analysis and financial modeling becoming much higher. This half of the class focuses on finance-specific formulas that you'd use as an analyst performing financial analysis on the job.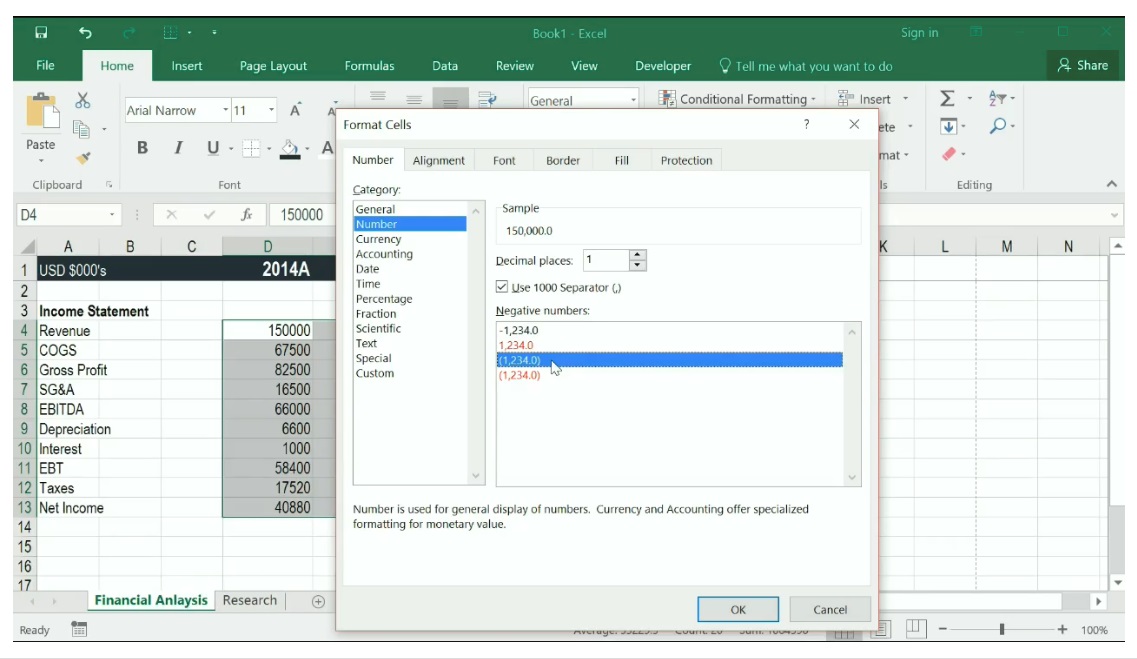 What am I going to get from this free Excel course?
Learn everything you need to know about Excel spreadsheets for a career in corporate finance
Master keyboard shortcuts, functions, and formulas to save time speed up your modeling skills
Follow industry-leading best practices; simulates on-the-job analyst training
Stand out in an interview or move up the ladder at work by dramatically boosting your MS Excel skills and confidence
Get an Excel Crash course certificate of completion
Who should take this free Excel tutorial?
This free Excel tutorial is perfect beginners, intermediate, and even advanced users. The tutorial starts off with the very basics, but the training quickly advances so even power users will learn something new and have a great refresher. Start the Excel Crash Course now!
Reviews (273)
Great
by Nischal Tuladhar, ACCA
It was really fun learning from this course. Much needed
Awesome course
by Ashish Gupta
The course is well structure and formatted in easy to go way, it is very easy to navigate course content and progress. Thank you!
Excel Crash Course - Spreadsheet Formulas for Finance
by Helen Du
helpful!
Read more
Great
by Nischal Tuladhar, ACCA
It was really fun learning from this course. Much needed
Awesome course
by Ashish Gupta
The course is well structure and formatted in easy to go way, it is very easy to navigate course content and progress. Thank you!
Excel Crash Course - Spreadsheet Formulas for Finance
by Helen Du
helpful!
Fascinating
by Hart Chukwuemeka
The Excel Crash Course is an eye opener to so many functions that makes work much easy and swift without using the mouse. I really enjoyed the course,I have gained a lot knowledge. Great One.
Excel Crash Course
by Bolajoko Adah
Simply amazing. Anyone who uses Excel should take this course!
Excellent
by Alvaro Zambrano
Very Good, Excellent course.
Best free course available out there
by sarath gopinath
I would really like to thank CFI for making such a course. For a beginner like me, this course was really helpful and insightful. I really appreciate the time and effort you guys have put. I am very much interested in purchasing the advanced course. However, I am yet to receive the certificate. I hope I receive that soon. Thank you so much!!
Superb Course!!
by Aynul Bashar Amit
This is an excellent beginner course for Financial Modelling and Excel. Hope to see more advanced courses on Financial Modelling in the future as well.
Explanation
by Lalit Mohan
The explanation was very good and i was able to understand everything in the first go.
Excel crash course - Spreadsheet Formulas for corporate finance
by Idriss Malike Ngari Ontsilambissa
I have been looking for such courses online and today I thank God that I came across CFI. CFI is the best. It is simply flawless. I rate this course 5 stars.
Perfect basic course
by Neeraj Rawat
Prefect content with amazing execution and examples.
THANKS CFI
by KANNY SIBOZA
Thanks CFI. The course was great showed me the really the nice part about modeling in the future, I love it, I got my Excel certificate, I proceed.
thanks for this interesting course
by Nariman Abd el-Aziz
Thank you very much
Very useful
by Akshay Kumar J
When I have came to know about this I was very happy. It is very useful for me Thank you
Extremely Awsome!
by Vithu Borkar
This is one of the crucial course(s) for the finance professionals to know the basic excel functions for the purpose knowing the initial step and a glance as to how the financial modeling works. - Thanks CFI!
Excel Certification
by Amaravadhi Karthik
I really had a great experience to have a excel crash course to get certified by CFI thank you for giving us this type of opportunity.
Excellent Course
by Zeeshan Hashmi
Well managed. Presentation is excellent. Learn and relearn good information. Wish to enroll for advance courses to.
Superb Course
by Farhan Tajik
Very helpful energetic instructor.
by ANSHUL DHOKE
Best excel crash course. Easy to understand.
Course was great intro to Corporate Finance.
by Anthony Licata
Great intro course. I'm an advanced Excel user and this even taught me some things I never knew from an analysis and audit perspective.
great
by john wanyutu
i love it the instructor was clear and precise. thanks
Sum, if statement, excel calculations
by hlengiwe dhlakafu
Thank you so much you have absolutely increased my knowledge and I have gained a lot, I'll rate it ten out of ten
i like it
by SHAIK KHAJA RAHAMTHULLA
very useful to beginners
very useful cource
by BALAJI KASUKURTHI
This free Excel tutorial is very usefull to beginners, intermediate, and advanced users. By learning this Excel Crach Cource you can enhance skills and knowledge in Finance for quick results.
wonderful
by TONDERAI NDAWANA
very well presented and most insightful
The best Refresher!
by Louis Rodrigue Fouda
This is a good place to start if you are feeling rusty with excel. This course taught me everything I needed to really dive directly into the program, it boosted my confidence level tremendously. The instructor was very clear in explaining every concept. I am really looking forward to the next class. I am very excited!
Excel Crash Course
by Alun Rees
The course was great but i would have question the narrator for going TOO fast at times and it was difficult to catch up and I had to restart several times when I lost the plot, so to speak!!
Great
by Rudolf Lobo
Good info and clear teaching
Excel Crash Course
by Siobhan McGilloway
An excellent course. Well presented and easy to follow. Difficult concepts made look easy in an organised manner. Really enjoyed the course and look forward to practicing my new skills. Many thanks
Excel Crash Course - Spreadsheet Formulas for Corporate Finance
by Vipin Rastogi
i am a non financial person. i wanted to learn financial skills and how to develop a financial adjustments by using the excel software. this training is excellent and helped me exactly in the same way i wanted to know. now i am sure i have acquired the skill for doing better in the field of finance. thank you very much. i rate this 5/5.
Excel Crash Course - Spreadsheet Formulas for Corporarte Finance
by Nike Okeyoyin
Excellent! It was a good start for me. Thank you
Excellent Course
by Emiliya Woodman
Very good examples. I enjoyed the class and learned a few new things.
AWESOME FREE COURSE! CFI Excel
by Jecory Ellis
As a senior engineer for a large utility company and also currently enrolled in an executive MBA program at a local state institution I am no stranger to MS Excel. However, this course rejogged my very limited memory of a bunch of helpful hot keys, shortcuts, and functions that I find useful in my professional and academic career. It also taught me some new tricks that will definitely help to streamline my everyday job functions that require heavy Excel computations. This was an awesome course and I highly recommend for new, novice and even moderate users of MS Excel software. For those advanced users, I still recommend it with the addition of their advanced Excel course. I have not taken it, but if this course is any indication of whats in store - you will NOT be disappointed. Kudos CFI!
Excel Crash Course - Spreadsheet Formulas for Corporate Finance
by Chantelle Galea
It was very interesting.
Great Course - Thank You!
by Carlos Fernandez
Excellent course, I learned a lot about Excel and how it is used for financial modeling! One note, the template spreadsheet needs to have the named references removed. Thank you! Carlos
Very functional course
by Muhammad Ashraf
The excel crash course is well-designed and a constructive tool. I have learnt a lot about key board shortcuts and formulas. For sure it would be an effective supplement in my computer applications performance & excel skills. I would recommend this course to the personnel especially whom are working in accounting and finance field.
Excellent
by Joy Nwankwo
It taught me financial analysis and financial modelling and formulas. this course will teach you the basic skill set you need to become a professional. I would gladly recommend CFI Excel crash course to anybody that would want to advance their career. Thank you CFI Team for this free learning platform. I am happy and grateful.
Excel Crash Course
by Mahao Rantho
Unbelievably educative and comprehensive for an online course. Visuality and audibility excellent.
Excel Crash Course - Spreadsheet Formulas for Corporate Finance
by Eric Parsons
Great refresher course. Learned alot too.
Basic but well presented
by Gerhard Maritz
The course covers a basic level. The issue is that the manager of supervisor will not do complete the basic calculations and therefor require more analysis and more audit and well as protection of information.
by MOHAMMED SALAHUDDIN AHMED
Very Professional Excellency in Excel Advance Analysis
by Diwakar C Sharma
Its great to learn the Basic and Advance Analysis on new boundary of skills...
by ashish pandey
nice course
Helped a lot...
by Vignesh Anandan
Helped a lot to start out my journey in this field... thank u for putting up such quality content
Excellent course
by Shivakumaran Srinivasan
Dear Sir, This was really an eye opener for persons like me who is managing a business. lot of tips as how to make the work faster and easier. Have asked my accountants to see this web site and make use of this. The way he has explained and the examples taken to explain was extra ordinary. Thanks a lot for giving me and my organization an opportunity to learn this.
Excel crash course
by Aniekan Ekeruke
The video is amazingly helpful, lots of shortcuts that are helpful and difficult at first to use but greatly important. Love this course and will recommend to all
by Georgina Martin
Very good course -
Thank you
by Peggie Colbourn
Thank you for offering this course online. I am a basic Excel student and this really helped me learn more advanced tools and functions of Excel that I need to know for my position.
Excel Crash Course - Spreadsheet Formulas for Corporate Finance
by reynato agapito
For a starter like me and a non business guy. I find the subject very helpful, very educational - easy to understand. Thanks a lot and God bless.
Excellent Content and Tutor
by Quang Pham
I dont know much about short cut keyboard and formulas but this course is just so helpful. I am practicing and hope one day i can use all the short cut easily. Thank you very much.
Excel Crash Course Rating
by Sheku Alim Cawray
The course was intense,I've learn a lot of new short cut in excel which I believe will make me more flexible in dealing with excel. I really do enjoy every bit of the course and hope to continue more in building my career.
by Sonam Uppal
really awsome way of teaching....
Great and Well Prepared
by Kaushik Agarwal
The course is both a refresher and an extension to the already established knowledge of Excel. The concepts have been defined and explained in a very detailed and precise manner. Fantasmagaria to say in one word.
by Sumeet Jain
Amazing and very helpful for building knowledge of the Excel but can be better by adding some more advanced formulas
Superb Excel Course
by Keshav Kumar
Very Very Important Course for Excel Users. Thank You so much for your initiative towards free courses. I learnt many things which are very important to me. Thanks a Lot.
Spreadsheet Formulas for Corporate Finance Testimony
by Ivaylo Gerdzhikov
Excellent work by the people of CFI! Very well explained and comprehensible!! If you're looking to start on the journey to becoming and Excel power user, this is a great place to begin!
Very helpful course!
by Hilda Henriquez
The course was easy to follow and showed me lots of simple tricks! I'm starting to use more keyboard commands instead of relying only on my mouse and it's helping!
best excel course
by Moses Bwire
The course instructor was clear and concise in his explanation. The course is also well structured making it easy to follow and understand while moving through each level
REVIEW
by Joel Bundo
The course has been extremely helpful and I have learnt a lot. I would recommend the course to anyone wishing to advance their excel skills.
Very Informative
by Karen Johnston
I've worked with EXCEL a lot in my career, but the course showed me things that I've never known and also very helpful with providing shortcuts to eliminate mouse work. I will definitely be taking the next level in December.
Excel Crash Course - Spreadsheet Formulas for Corporate Finance
by Stanley Ijegbulem
It's very nice and well explained. The only problem is that I don't have a laptop for practice but the knowledge I have acquired through this tutorial is very powerful and enlightening. Thanks for free teaching spirit and my certificate will boost both my job hunting and personal motivation to delve deeper into financial analysis. Thanks again.
Excel Crash Course - Feedback
by Ronnel James
Very Practical and Informative. Keep up the good work.
Thank You Sir for detailed explanation
by Ganesh Anand.V. Rao
Its a Great Explanation and in detailed, i understood all the concepts of Corporate Finance Practically... Thank you Very much CFI & Thanks to Sir also.
Excellent for new and old skills
by Shermaine Chik
I have learn so much from this course
by sarti Amunyela
Thank you very much this has been an eye opener for me, great job
Excellent On Line Course
by Sk. Azim Hasan
This course helped me to learn lots of new operations and motivated me to learn more.
Wonderful
by Harish Pathak
Thanks A lot I learned more than I knew, Its going to Improve My Excel Skills
Excel Crash Course - Spreadsheet Formulas for Corporate Finance is Excellent
by Hrishabh Kanthed
This is fantastic course provide by cfi . I very appreciate that this is good course with example and very easy to understand.
Excellent Course! Will definitely recommend to friends.
by Thomas Boles
Very Interesting
by Rodgers Mutale
very interest have learnt things i didnt learn in my full time as a student this is real staff to study which makes excel and finance seem so easy i love it.
by Lenuta Andreea Apostol
Excelent Course!
Practical and easy
by John Fokos
I loved this course. It helped me brush up my current skills and remind me some of my old ones. I highly recommend this course to everyone that looks for something practical and easy to understand. The materials provided are also excellent! Thanks much!
Great Course
by Mitko Ganchev
Very detail and well put together course. I enjoyed the fact that you can practice as you go!
Excel Crash Course - Spreadsheet Formulas for Corporate Finance
by Hemant Prasad
I found the course very useful and have increased my skills with several shortcuts and formulas to draw the financial model.
Excellent
by Cihan Aktaş
ıt looks excellent course for beginners. And also quite understandable materials and easy follow up all videos and also clear English speaking. I highly recommend this course to all who needs this kind of training. Best regards, Cihan AKTAŞ CFO @ Oto Plan Turkey
Excel Crash Course - Spreadsheet Formulas for Corporate Finance
by samir ABDEL HAMIDE
This course is very very very good but for me, the one time is not enough to listen, I need to take more time to make practical applications so you give me more time to understand thank you Samir
Awesome Learning
by Parth Tanna
I liked the method used for teaching. It was so easy to understand and learn. Examples provided are quite useful.
Excel Crash Course - Spreadsheet Formulas for Corporate Finance
by Kamil Jebe
This is absolutely on point. How I wish I can come over to your office and see the instructors face to face. keep it up.
Fentastic
by Varma Kanteti
This course gave me the knowledge of Excel from beginning to intermediate level. I will proceed with the paid courses in future. Thank you CFI
by Farah Rasheed
The course was excellent. I liked how the instruction voice was not rushed. Concepts focused on were relevant to finance and examples used were as well.
good course
by Himanshu Bansal
nice content,
Very Good Course
by Chuck Carr
The videos were short and to the point with useful information. This course was free, but I would see more exercises/examples that you can practice.
Helpful
by Syed Haseeb
Already had the raw learning but. This course helped me a lot with the formatting and presentation
by EMMANUEL MITI
this course was really helpful to me, i feel am a hero already looking forward for more
Thank you
by denis ndonga
I appreciate the availability of this course I improved on what I already know. Thank you Regards Denis
Excel Crash Course
by Danna Hunter
CFI i must tell you many thanks for this course. Things that i never knew in EXCEL i have learnt in this course. BIG BIG THANKS!!!! This is a must take people......
Excel Crash Course - Spreadsheet Formulas for Corporate Finance: A Review
by Rangga Kresna
In my opinion, the course was great for people who never deal with Excel because the materials are very basic. Yet the explanation is clear and easy to follow.
Excel Crash Course
by roxanne singh
amazingly simple and easy to understand . love the flow of learning modules .
by ALEXANDROS KALOGIROU
It was very helpful for me, i tried to update my knowledge around excel techniques. For sure i am going to follow another excel course.
Great refresher
by Christian Murphy
I had learned a lot of this in school but hadn't used it in a long time, get way to get reacquainted with some advanced Excel features.
Sophia Haoses
by Sophia Haoses
Excellent course, I will recommend it to anyone. Clear step by step instructions and the good thing is you can redo session until you are confident.
Excel Crash course
by ashutosh singh
Very well designed and a very good course.
Very Useful
by Emmanuel Umoru
I wish I had taken this course earlier before I went for an interview. The excel review skills were very useful and truly refreshing. I have learned a lot from this course, more than I have in a lifetime working with Excel. thanks
Great Course Materials and Structure
by Izabela Velkova
The Excel crash course is very helpful to brush up on different techniques for modelling. I highly recommend to professionals working in financial analysis or data analysis.
AWESOME!
by Camille Adams
This course was great! Of course I would think so since I am not a Excel super user. The best part was learning the short cuts. Some are a bit cumbersome but well worth learning. During the course many light bulbs turned on for me and will make spreadsheets very workable for me in the future. One down side for me with the course is that I would have liked to see how Tim would teach v lookup and pivot tables. Tim has the ability to not stumble over his words, is a clear speaker and never tires no matter how many times I hit the rewind button. :) Great job! When I can afford it I would like to take more classes.
Very good
by khadir Mohammed
Very well put together course.
by Lavender Fettes
Hope to use this again as a reference to touch basics! Thank you!
Perfect course to learn and remember
by Francis Valdez
I liked the course a lot, it was exactly what i needed to improve my skills and to remember what i learn in collage.
Excel Crash Course - Spreadsheet Formulas for Corporate Finance
by geoffrey collyer
Overall outstanding. Only marginal criticisms were that I didn't know you would get the spreadsheet with the full answers at the end sop had to keep going back to check formula. Also the tutor was very clear, but a little fast at times over the detail. Working on an Apple Mac makes the use of Microsoft short cuts difficult but I got over it.
great one!!
by salwa bamakhrama
great info's and tips
Brilliant Course
by simon senu
This course has established a strong foundation for me looking to enter into career as a financial analyst.
Excel Crash Course _ Five ******
by Saroj Kumar
What a explanation from scratch .
by Notago Narib
Super! Good for refreshing and polishing your skills.
Excellent Course
by P K
I found this crash course to be extremely helpful. I haven't used Excel that often, but I'm familiar with the basics and some formulas. The course found a good balance of simple, step-by-step instruction that is interesting for users of different skills. In some instances, I find using keyboard shortcuts a lot more cumbersome than a simple click, but I get what the instructor was trying to do... Thanks a lot!
Well explained
by judy onyango
Simple and easy to understand.
Direct, to the point and useful
by Fernando Marquez
I liked this excel supporting course. It has many interesting tips and ideas to master the excel skills even if you have previous knowledge. Very didactic and practical.
Good. Informative.
by mithun hegde
Very nice Presentation and Script. Easy to understand and a simple way of explanation.
Awesome Teaching
by Janani K.P
The teaching of the basics lesson is very nice and this will help us to understand each and every concept in detail. One suggestion from my side is to give the shortcut keys separately after the lessons so that it helps the basic learners to understand still more precisely.
by deeksha nigam
This was an awesome course. Crisp and precise. The trainer showed the techniques hands-on rather than just focusing on the theory part.
by Mamta Sahu
I like this course at the time of learning. I had also joined some other online courses but were not too effective. Their material and teaching was confusing. Your way of explaining each and every thing was great.
Excellent
by Stanley Saldanha
The course is excellent and well designed. Although I am well versed with Excel functions, appropriate use of these functions in designing financial models was something new. Thanks.
Thoughts about the course
by Jacob Nyarwati
Very helpful and has given me a chance to interact with Excel; I will use it more and more to be an expert
Excellent
by ABHISHEK ANAND
It was very well directed and excellent session.
Organized and Informative
by Dan-Jethro Cordero
In this course, you will learn the excel skills that are fundamental to pursuing a career in Corporate Finance. Use of excel functions and settings are demonstrated clearly and systematically.
Excel Crash Course
by Dr Keyurkumar Nayak
Excellent
Excellent intro
by Feras Khan
Simplified and relevant to basic financial analysis through excel. Highly recommended
Wrap up
by Ziad Qasqas
Wrap up your scattered knowledge in Excel with easy and structured way.
Developer Feature
by Kelvin Ambunya
The course was very informative and I look forward to doing others too. However in the introduction part, the tutor was to talk about the developer feature found in the excel ribbon. Kindly look into it and keep up the good spirit.
Excellent
by Loreine Ngolobe
Great Course
by Hayat Aladwan
Thank you for providing this training for free . It is valuable
Excel crash course
by Saroj Kumar
Great learning .keep the good work up.
Excel Crash Course - Spreadsheet Formulas for Corporate Finance
by Janice Saeger
This was easy to follow, and I learned some new tricks! Thanks for a great on-line program.
excel course
by Abdukadir Mohamed
this course is great for beginners as it carry all the necessary technique and skills of excel with amazing explanation of CFI team, you can pursue any data analysis courses if you acquire this course.
Informative Course
by Paritosh Singh
This course provided me with certain knowledge related to MS excel .
Excellent Course in every step
by Zuly Martinez
It was very easy to follow every step of the course, good content, tips and formulas. It is presented in a simple but interesting way. I didn't feel bored or tired during any of the sections. Teaches key advance Excel techniques that are very useful, for those who are developing a Corporate Finance career. I worked performing due diligence in the past 3 years and I wish I had done this course earlier. Highly recommended!
Best 1
by Ezekiel Robert
Best! awesome crash course. I have learned so much in less time. thanks
Excellent
by Lorenzo Velez
Excellent Course
by Mohamed Bakri
Extremely helpful & structured course for improving modeling courses!
Spreadsheet Formulas for Corporate Finance
by Patrick Irurhe
The course is very good but I will suggest you allow easy review of work already done. I have benefited immensely
This is simply the best excel course
by Deolindo Matumba
Honestly, this is simply the best and most straightforward Excel course ever seen! Thanks a lot.
Business Excel
by Teka Derick Tikum
Worth more value than a normal training in Excel. It links Excel concepts to not only Finance but entire Business Fields. Good for beginners to make your financial modeling and valuation techniques superior. Greatly helped me out
Awesome!
by Terra DuPree
The CFI Excel Crash Course enhanced my skill set giving me the confidence level I needed to pursue a position as a Financial Analyst.
Excellent course
by muhammad salman
Thank you for giving me the opportunity to complete this course
Great Refresher
by Dakia Dillworth
This was a great refresher course that is explained very clearly and in detail!!
Excel Crash Course
by butler conduah
What a great teacher ! Excellent class !
by Shivanagaraju bavisetti
Excellent for Finance analysis
by Rajesh Kumar
This course is very helpful for those working in Finance and reducing their work a lot…!
Great
by Zakir Adam
Helped me a lot
Nothing can be better than this course for beginners for Financial Modeling
by Nisarg Suthar
Crash Course for Financial Modelling for Corporate Finance
by Njabulo Vincent Hadebe
A great course, very simple and well taught. All free, I really enjoyed this. More interested to learn more just not fortunate enough to be able to afford it. I am a junior analyst and learning on the job and do not have access to funds in order to develop myself. The search for another video which is free to teach continues. Well done on the layout as well its really easy to follow and hard to forget. The lesson planner in this regard is very good.
Very clear explaination
by Maria adi susanti
this course has very clear explanation
by morlan reddock
Tim does an excellent job explaining the various concepts. I'm actually interested in taking the advanced course!
Predominant course to enhance excel skill
by chandra prakash
This course is amazing i would highly recommend it for those who want to start a career in finance. This course is excellent for the working professionals to enhance excel skill. Thanks a lot Corporate finance institute Team.
Really nice
by Rama Krishna
It's an awesome website​
Excel Crash Course - Spreadsheet Formulas for Corporate Finance
by Valentin Faye
A great presentation - Easy to follow - Very useful
by Elena Mirchevska
The Course was really good and helpful! Good to follow every step and easy to understand! I really recommend this course to everyone who wants to get more familiar with the basic functions in Excel for Corporate Finance and Business Modeling! Thank you Corporate Finance Institute!
Must watch
by Kajal Poddar
Worth the time! Very helpful :)
by moshood aliyu
I thought a lot in this course, and am very happy participating in it. May almighty God enrich you. And more strength to your elbow .
Excel Crash Course
by Todd Lincoln
Excellent resource for learning keyboard shortcuts vs using the mouse, as well as some modeling tricks.
The title speaks for itself. The course is exactly what the title describes for the student.
by David Anthony
This is a great course! It's a very technical course, but, if one really wants to get started learning the latest in Excel financial modeling, this is the course to take. And, it's Free! I especially enjoyed the way Mr. Vipond presented the material. He is a first-class instructor who knows how to explain and simplify the technical matters of Excel and the complex matters of finance. I only wish CFI offered more Free courses! Thanks, Dave
Very straightforward - KISS
by Robertson Abraham
The instructor kept it simple ;) and it was easy to follow. It was also useful to work out the examples along with the lessons. I'm very satisfied.
Fantastic
by Bairapaga John
Awesome Experience in learning. I learned well by practicing. I also learned how to use the only keyboard for Excel functions. Thank you.
Great Excel overview
by Robert Harriman
I had a pretty good functional knowledge of Excel already, but the review was certainly worth my time and with Excel it seems there are always new shortcuts and tips to learn. Great course!
by Mohamed Kanneh
Challenging and interesting and what really makes it meaningful is the fact that you can also use the course to give a full lesson in Excel.
Excellent course!
by Joanne Wang
This course is for Excel professionals who are familiar with Excel and shortcuts. The most impressive points are the professional format of the financial report and the shortcuts. You can get rid of the mouse after you can memorize and use the keyboard shortcuts you have learned from this course. Thank you CFI!
by Olga Filatova
It is very useful for daily work as it takes a wide range of Excel functions. Never thought before that Macro is so simple.
by mwitelela ilishebo
Very helpful and informative
Great Course
by martin bissette
This course was very educational and although it is entitled "Excel Crash Course" it provided a wealth of information and practical examples. Excellent free course!
Excellent primer
by John Lau
Learned a lot in a short time.
Excel Crash Course
by Claudio Sevilla Medina
This is an awesome course. I learned very important tools, tricks and Formulas to have a better use of Excel. Great for financial modelling!!!
by Olumuyiwa Fabunmi
very interactive
by TROVECIA BARKER
Very practical course i learned so much in just a few minutes.
Extremely helpful
by Norah Nyange
An excellent course by far
Excellent Course
by David Sams
A complete introduction to Excel 2016. I liked the focus on using keyboard shortcuts as an alternative to the mouse
The best one!
by Santiago Lanza
I've gone through many other websites, trying to find the easiest one. Then I found this one, it's perfect because the explanation is easy and you can clearly hear the voice of the man talking on the video in high resolution.
Best course ever
by Saqib Sohail
I am in the accounting sector for 15 years, but this is the best financial and Excel course ever i've seen on any online site
by Chada Tania Molosiwa
It was refreshing and very good to study. I would recommend my family as well. Amazing course indeed ...
Very comprehensive yet easy to follow
by Abdulbariy Karimov
I found this the most useful and productive course I have ever taken. The course made me feel more confident about my knowledge of financial modelling and learnt a lot of new things which I could not have by myself or with any other method! Thanks CFI!
by S. M. Abdul Awal Pavel
This was an excellent learning session for me. The mentor was so good. That's why I have learnt so quickly and in a easy manner. Thank you so much!
Awesome!
by Yves Seybel
Guys, I believed I was pretty good at Excel, and I still do (I actually teach it - lol). However, your work with keyboard shortcuts only and introducing a bunch of data analysis very early in the game was awesome! I'm very impressed so far and look forward to the rest of your tutorials
Excellent
by Bimbashree K.G
I Think this the best free Excel course I have ever attended and I am enjoying learning from it, Thanks
Simple and thorough
by Ajay Mangal
This is the best and most concise course on Excel I have come across. For people in a finance profession, it is necessary to understand and learn excel spreadsheets thoroughly, which is an indispensable tool. I thank the team at CFI for having created this course. Thank you.
Review of Excel Crash Course
by Przemyslaw Janus
This course clearly and perfectly presents approach to financial model setup and analysis. During the course, a participant is led through best practices in model building and often hints how to do things easier in Excel. In my view, models built with these guidelines in mind will not only look more professional but also will be easier for others to follow and manage onwards. I will definitely take the opportunity to participate in other CFI courses as the material is presented in such an easy and digestive way that even those with very basic skills will immensely benefit from the training. I highly recommend Excel Crash Course - and I am sure that others will share my experience and take other courses as well.
Excellent
by Dimitar Drumev
Amazing Job Tim Vipond! Keep up the good work!
Great Job
by Nilesh shingote
Best course ever seen
Great course!
by Kardo Anwar
Excellent course to learn/sharpen the basics of Excel. Even with a masters degree in Finance I still learned a lot
Excellent
by Abdul-Raheem Alli-Oluwafuyi
It is a very nice and worthwhile course, I recommend for anyone and everybody.....
Title is good
by Daleen Spangenberg
Thank you, everything was excellent
Great
by Aarav Singh
Very helpful guide for financial analysts this course delivers a lot of good tips