Overview
Excel Crash Course Description
In this free Excel tutorial, you will learn all the tips, tricks, shortcuts, functions and formulas you need to be a power user. This free Excel course is designed specifically for spreadsheet users who are already performing professional financial analysis and financial modeling or are looking to prep for a wall street career. Take CFI's Excel Crash Course now to advance your career!
Build a strong foundation in Excel for careers in:
Investment banking
Private equity
Corporate development
Equity research
Financial Planning & Analysis (FP&A)
Excel tutorial on best practices
Learn industry-leading best practices. This free Excel course is based on first-hand investment banking training programs at global banks. The quality of instruction you receive in this course will have you just as sharp as if you took an expensive, live Wall Street course.
Excel tutorial & training details
This free spreadsheet training course starts with the Excel basics and quickly progresses to a more advanced level where even experts will learn something new. We think it's important to start at the bottom and build a solid base, which is why we review all the foundational skills you need before building more advanced spreadsheets. In this Excel tutorial, you'll learn to ditch the mouse and use only keyboard shortcuts to dramatically improve your spreadsheet building skills.
In the second half of the Excel crash course, you'll notice the functions and formulas getting more sophisticated and the quality of financial analysis and financial modeling becoming much higher. This half of the class focuses on finance-specific formulas that you'd use as an analyst performing financial analysis on the job.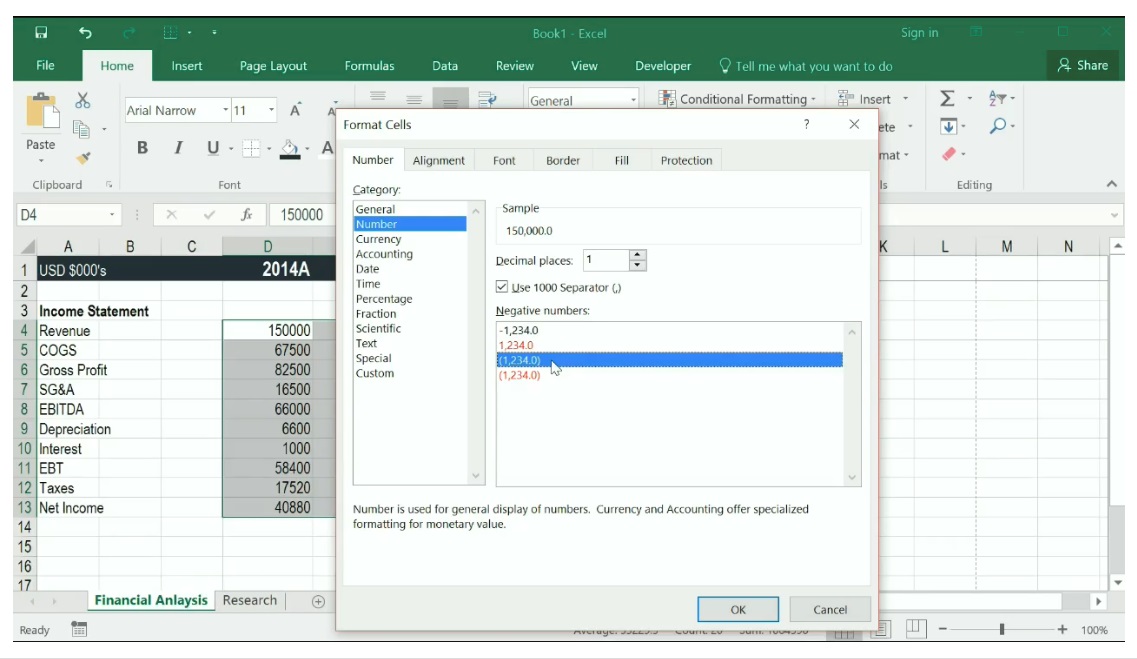 What am I going to get from this free Excel course?
Learn everything you need to know about Excel spreadsheets for a career in corporate finance
Master keyboard shortcuts, functions, and formulas to save time speed up your modeling skills
Follow industry-leading best practices; simulates on-the-job analyst training
Stand out in an interview or move up the ladder at work by dramatically boosting your MS Excel skills and confidence
Get an Excel Crash course certificate of completion
Who should take this free Excel tutorial?
This free Excel tutorial is perfect for beginners, intermediate, and even advanced users. The tutorial starts off with the very basics, but the training quickly advances so even power users will learn something new and have a great refresher. Start the Excel Crash Course now!
Free Excel Crash Course - Spreadsheet Tutorial for Finance
Free
Enroll For Free
Approx 3.5 hrs to complete
Path to Certification
Prerequisite Courses
6 courses from beginning to intermediate level.
01
Optional
Core Courses
9 courses from beginning to intermediate level.
02
Required
Elective Courses
Take 3 out of 8 courses at an advanced level.
03
Required
Get Certified
Submit your FMVA®️ checklist and order your certificate.
04
Required
Join Our Community
Get access to the Global Corporate Finance Society.
05
Optional
How the Certification Works
FMVA® Financial Analyst Certification courses are offered 100% online, allowing you the flexibility to start the financial analyst program anytime and learn when it's most convenient for you.
Students must complete all core and elective courses (12 in total) and demonstrate mastery of the topics through successful completion of course materials, quizzes, and assessments.
Within 48 hours of program completion, your Blockchain Verified FMVA Certification will be emailed to you.
What Our Students Say
Gayatri Kiranmayi V
Excellent
This is an excellent crash course. It's easy to understand and practice.
Rajesh Sindhu
Nice course for beginners
Content is great and delivery is superb.
Oumaima Karim
Great course as a prerequisite to building financial models
Effective course to catch up quickly with all preprequisites to develop financial models. The course is well paced and the explanations are very clean. I recommend !
See More
Frequently Asked Questions
Can I download the Excel files and financial modeling templates?
How long do I have to complete the courses?
Are CFI courses verified?
Are there any additional fees or costs?
What currency are your courses priced in?
How do I earn my certificates?
Can I email the instructor if I have questions?
Will these courses help me advance my career?
FMVA® Financial Analyst Certification
Become a Financial Modeling and Valuation Analyst (FMVA)® by completing all required courses in accounting, finance, modeling, Excel, presentations, and strategy. From beginner to advanced courses you will have the complete training you need to become a world-class financial analyst.