Foreign Exchange Essentials
Enroll For Free
Beginner level
Approx 2.0 to complete
100% online and self-paced
Foreign Exchange Essentials Course Overview
This prep course on Foreign Exchange Essentials covers the fundamental knowledge you need to know about the FX markets. You will learn more about the historical development of the FX market, the different exchange systems that exist, and the many market participants. You will also learn about various foreign exchange platforms, along with regulations.
Foreign Exchange Essentials Learning Objectives
Upon completing this course, you will be able to:
Understand the historical development of the foreign exchange market
Describe the different foreign exchange regimes (free float, managed float, etc.)
Identify market participants in the FX market
Identify FX platforms that facilitate transactions
Understand the settlement process and market drivers
Describe various market regulations 
Foreign Exchange Essentials Is a Prep Course of CFI's CMSA® Program
CFI's Capital Markets & Securities Analyst (CMSA)® program covers all the basic, intermediate, and advanced topics about sales and trading, investment banking, and asset management. This program teaches you trading strategies used in the finance and capital markets industry. It is ideal for students who want to learn how to trade different asset classes. The program is completely online so you can take it at your own pace, from anywhere in the world.
Common career paths for students who take the CMSA® are Sales & Trading, Asset Management, Wealth Management, Treasury, Risk Management, and other capital markets careers.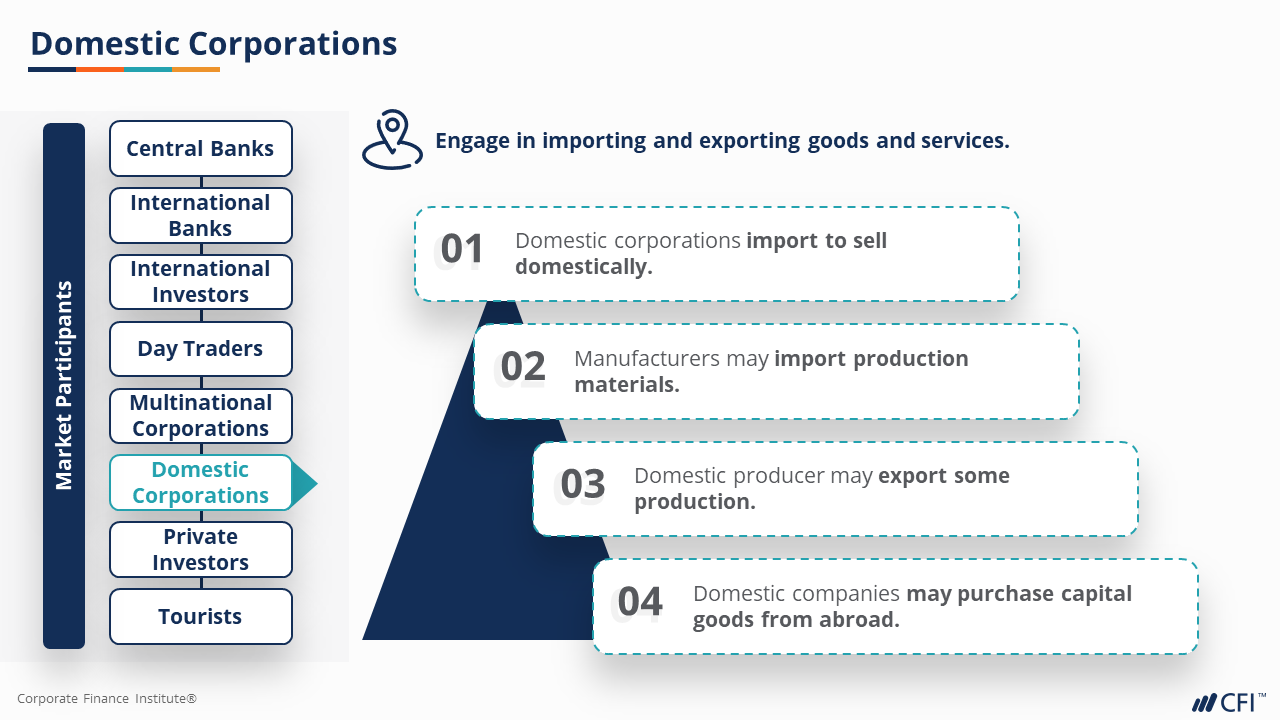 Who Should Take This CMSA® Course?
This Foreign Exchange Essentials course is great for anyone looking to understand more about the capital markets. It teaches a generic overview of foreign exchange, and is a great prep course for more advanced topics in FX. This course is designed to equip anyone who desires to begin a career in fixed income, equity, sales and trading, or other areas of finance with the fundamental knowledge of foreign exchange.
Get the course in a bundle
Foreign Exchange Essentials is part of the All Capital Markets & Securities Analyst (CMSA)® courses, which includes 25 courses.
All Capital Markets & Securities Analyst (CMSA)® Courses
All 25 CMSA® courses
Skills Learned Trading strategies used in the finance and capital markets
Career Prep Work in capital markets, whether on the buy-side or the sell-side
Prep Courses
5 courses from beginner to intermediate level.
01
Optional
Core Courses
6 courses from beginner to intermediate level.
02
Required
Elective Courses
13 courses in advanced and intermediate levels.
03
Required
Get Certified
Submit your CMSA® checklist and order your certificate.
04
Required
Join Our Community
Get access to the Global Corporate Finance Society.
05
Optional
How the Certification Works
Capital Markets & Securities Analyst (CMSA)® courses are offered 100% online, allowing you the flexibility to start the Capital Markets & Securities Analyst (CMSA)® program anytime and learn when it's most convenient for you.
Students must complete all core and 7 elective courses (13 in total) and demonstrate mastery of the topics through successful completion of course materials, quizzes, and assessments.
Within 48 hours of program completion, your Blockchain Verified (CMSA)® Certification will be emailed to you.
This course benefited me a lot!
This was short but quite a journey! It has opened my eyes to a lot of things that I was not aware of before and it was great. I would recommend this to anyone interested in foreign investments.
LIPOLELO NTLELE MOHLAKORE
Great course to begin FX topic
It has all the basic elements to understand Foreign Exchange and the infinite possibilities for financial practitioners. Gives appetite for learning more. Thank you Robert
Robert Hernández Martínez
The course is so informative.
The course is interactive and informative. Lovely pace and downloadable videos are easy to understand.The questions are challenging enough that once you pass you are perfect in Foreign Exchange.
Domnic Omondi
An eye opening
This course essentially opened my eyes to the basics and introductory of foreign exchange. My capacity has deepen since the completion of the course; I am renewed and professionally can now speak on the subject matter. Thanks to the great team at CFI for such a distinct compilation of this course materials.
Henry N. Young
See More
Frequently Asked Questions
Can I download the Excel files and financial modeling templates for the course?
How long do I have to complete the courses?
Are CFI courses officially accredited?
Are there any additional fees or costs?
What currency are your courses priced in?
How do I earn my certificates?
Can I email the instructor if I have questions?
Will these courses help me advance my career?