Evaluating a Business Plan
Enroll Now
Free Preview
Intermediate level
Approx 3.0 to complete
100% online and self-paced
Evaluating a Business Plan Overview
In the Evaluating a Business Plan course, we will provide key insights into the business plan development process and let students practice by working through a practical case study.
The course will start by sharing an overview of the components which make up a business plan, prior to delving into each element. At the end of each module, students will have the ability to work through the relevant section of the case to further hone their knowledge of the topic. 
The various modules look at the development of business plan cover pages, executive summaries, company descriptions, management and operations (including management profiles and organizational charts), services or product lines, market analyses (including the competitive landscape, and SWOT/PESTEL analyses), marketing and sales, financial management and projections (including key financial ratios), and appendices. 
Evaluating a Business Plan Learning Objectives
Upon completing this course, you will be able to: 
Understand how to develop a business plan
Perform qualitative and quantitative analysis
Explain crucial business plan concepts
Learn how to evaluate the business plan of a company (case study)
Evaluating a Business Plan Is a Required Course of CFI's CBCA® Program
CFI's Certified Banking & Credit Analyst (CBCA)® Program offers skills including credit evaluation, documentation, and review procedures. For beginners to advanced users, the CBCA® program is designed to help you become a world-class credit analyst. 
Who Should Take This CBCA® Course?
The Evaluating a Business Plan course is perfect for any aspiring credit analyst working in insurance, underwriting, rating agencies, commercial lending, corporate credit analysis, and other areas of credit evaluation.
Get the course in a bundle
Evaluating a Business Plan is part of the Commercial Banking & Credit Analyst (CBCA)™ certification, which includes 34 courses.
Commercial Banking & Credit Analyst (CBCA)™ Certification
All 34 CBCA™ courses
Skills Learned Credit Analysis and Documentation, Risk Mitigation, Writing
Career Prep Rating Agencies, Insurance, Commercial Lending
Prep Courses
6 courses from beginner to intermediate level.
01
Optional
Core Courses
15 courses from beginner to intermediate level.
02
Required
Elective Courses
9 courses in advanced and intermediate levels.
03
Optional
Get Certified
Submit your CBCA™ checklist and order your certificate.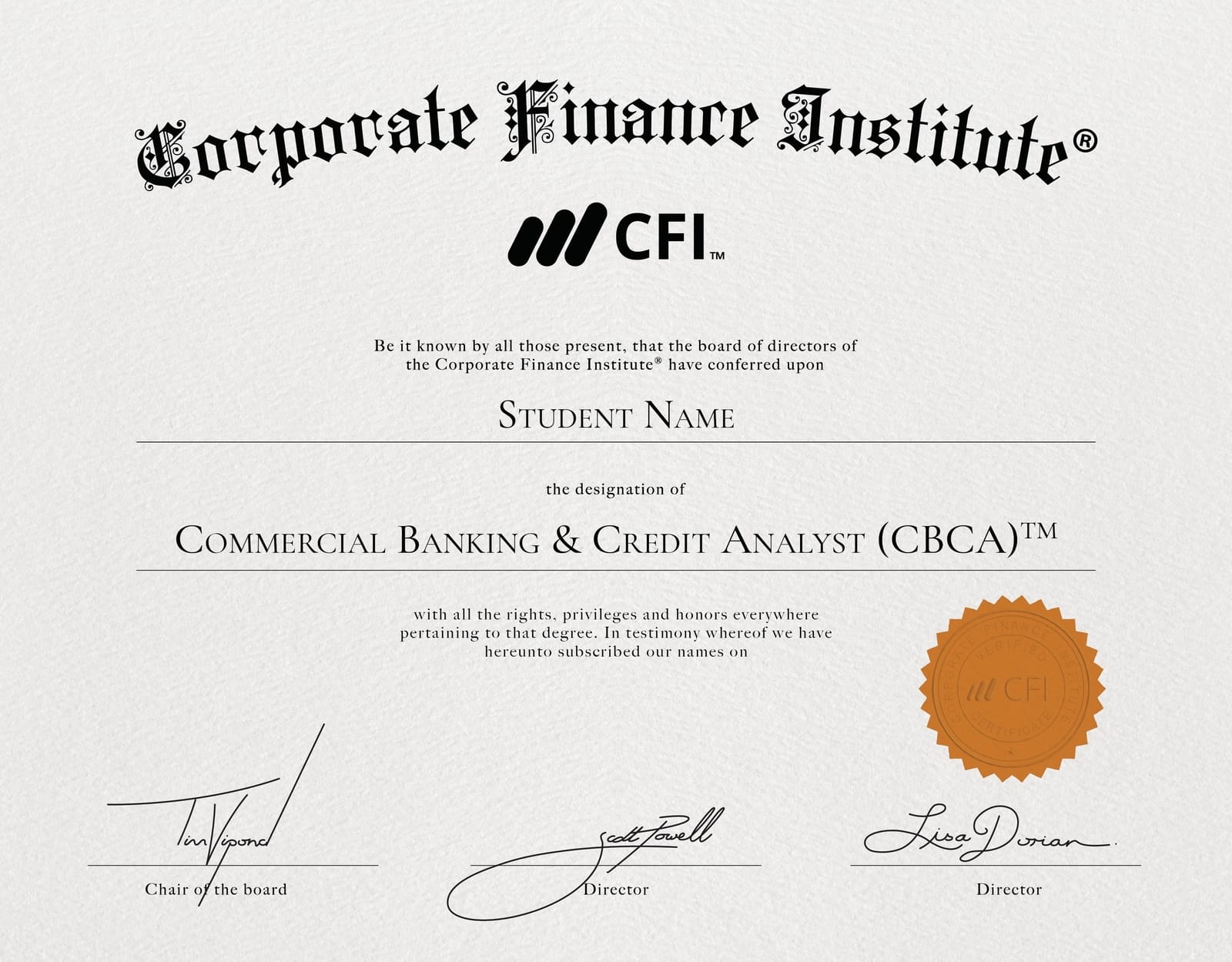 04
Required
Join Our Community
Get access to the Global Corporate Finance Society.
05
Optional
How the Certification Works
Commercial Banking & Credit Analyst (CBCA)™ courses are offered 100% online, allowing you the flexibility to start the Commercial Banking & Credit Analyst (CBCA)™ program anytime and learn when it's most convenient for you.
Students must complete all core and elective courses (18 in total) and demonstrate mastery of the topics through successful completion of course materials, quizzes, and assessments.
Within 48 hours of program completion, your Blockchain Verified (CBCA)™ Certification will be emailed to you.
Highly Needed
In this course I discovered information that was very much needed and also new materials, which I was not aware of.
Aubrey Sibanyoni
Understood the concept easily
An easy and simple way to understand the concept.
Arvind Kumar
Evaluating a Business Plan
Very good content with good practical examples and good presentation.
VENUGOPAL RAJAMANURI
LEARNING FROM WHERE YOU ARE.
Forget about those times when you felt like advancing your studies but couldn't achieve so because your work is more demanding each day and so you miss the opportunities to access your Advanced Education. But now with Online Education, so many people have achieved their life goals without shifting from their place of residence (Country) to another. All thanks to the developing Technology.
NABIRYO SALIMA
See More
Frequently Asked Questions
Can I download the Excel files and financial modeling templates for the course?
How long do I have to complete the courses?
Are CFI courses officially accredited?
Are there any additional fees or costs?
What currency are your courses priced in?
How do I earn my certificates?
Can I email the instructor if I have questions?
Will these courses help me advance my career?