Equipment Finance Course Overview
This Equipment finance course will explore the concepts behind non-real estate capital expenditures to grow fixed assets on the balance sheet. We will identify the sources of equipment financing to understand the different types of lenders before moving onto the differences and similarities between term loans, capital leases, and operating leases. 
This course will explain how security filings & public registries work with respect to debt and collateral and how these differ for term loans and leases. 
We'll look at 8 critical criteria for analyzing and underwriting a transaction and how the different lending structures affect these criteria. After, we will walk through an example client with an operating lease and adjust financial statements to calculate adjusted lending ratios. Lastly, the course will cover additional sale-and-leaseback concepts, financing new and used equipment, and handling non-standard advances.


Equipment Finance Learning Objectives
Upon completing this course, students will be able to:
Identify different financing options for non-real estate capital expenditures,
Explain how security filings and public registries work,
Define the differences and similarities between term loans, capital leases, and operating leases,
Adjust financial statements for an example client that has an operating lease,
Calculate adjusted lending ratios for borrowers that use operating leases, and,
Explain financing structures for new and used equipment.


Equipment Finance is an Elective Course of CFI's CBCA® Program
CFI's Certified Banking & Credit Analyst (CBCA)® Program offers skills include credit evaluation, documentation, and review procedures. For beginners to advanced users, the CBCA® program is designed to help you become a world-class credit analyst.


Who Should Take This CBCA® Course?
This Equipment Finance course is designed for beginner and intermediate-level lending professionals, including relationship managers, analysts, and credit adjudicators in commercial banking or equipment finance operations. This content is also highly relevant to loan brokers and small business banking professionals, who are involved in these types of transactions day-to-day.
By covering the different elements of equipment finance in specific detail, you will be able to identify better solutions around lending structures for clients & prospects. The exercises and tools explored in this course will be useful for any financial analyst who wishes to work in credit analysis, commercial banking, and other areas of lending and credit evaluation.
Get the course in a bundle
Equipment Finance is part of the Commercial Banking & Credit Analyst (CBCA)™ certification, which includes 35 courses.
Commercial Banking & Credit Analyst (CBCA)™ Certification
All 35 CBCA™ courses
Skills Learned Credit Analysis and Documentation, Risk Mitigation, Writing
Career Prep Rating Agencies, Insurance, Commercial Lending
Prep Courses
7 courses from beginner to intermediate level.
01
Optional
Core Courses
16 courses from beginner to intermediate level.
02
Required
Elective Courses
10 courses in advanced and intermediate levels.
03
Optional
Get Certified
Submit your CBCA™ checklist and order your certificate.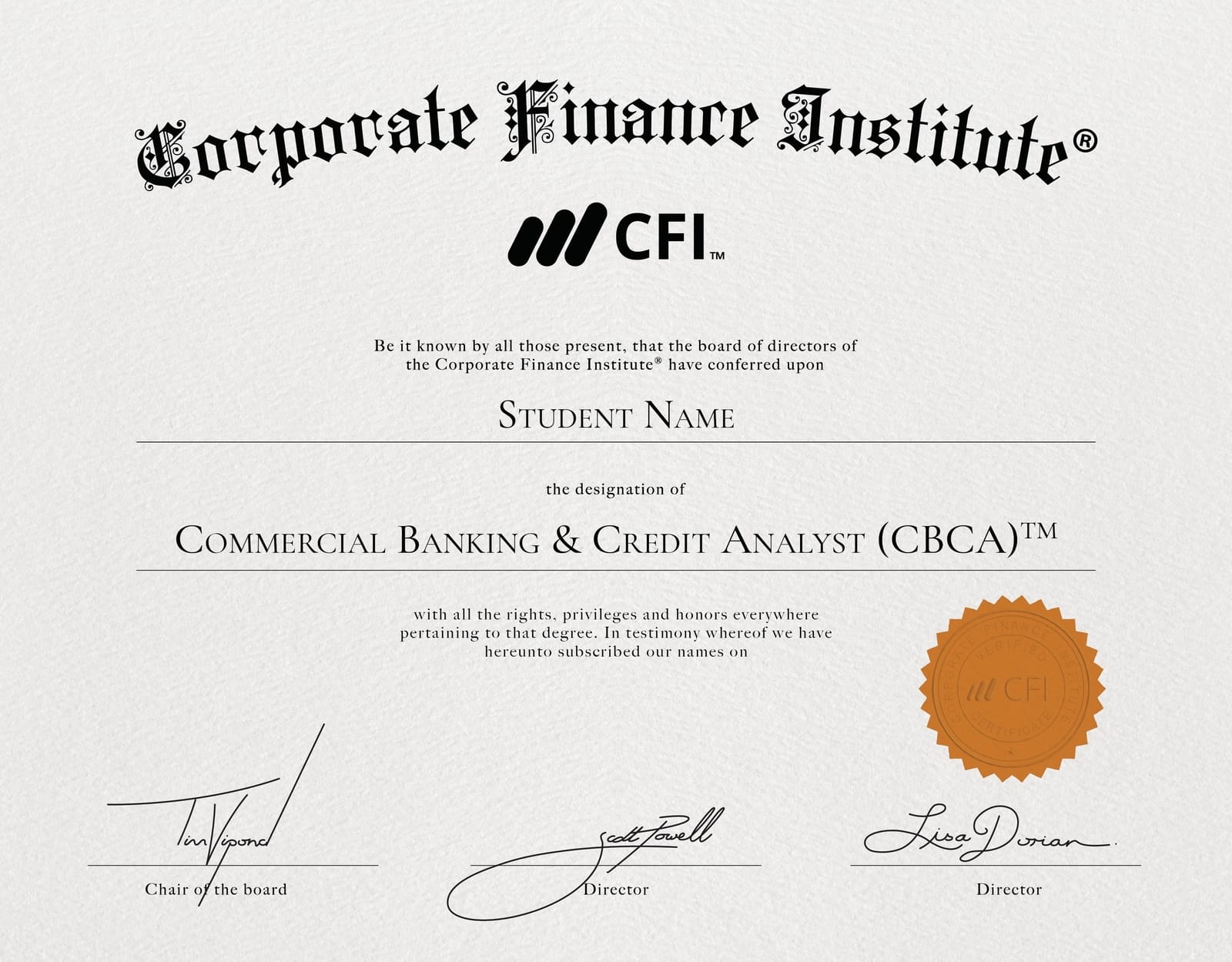 04
Required
Join Our Community
Get access to the Global Corporate Finance Society.
05
Optional
How the Certification Works
Commercial Banking & Credit Analyst (CBCA)™ courses are offered 100% online, allowing you the flexibility to start the Commercial Banking & Credit Analyst (CBCA)™ program anytime and learn when it's most convenient for you.
Students must complete all core and elective courses (18 in total) and demonstrate mastery of the topics through successful completion of course materials, quizzes, and assessments.
Within 48 hours of program completion, your Blockchain Verified (CBCA)™ Certification will be emailed to you.
Frequently Asked Questions
Can I download the Excel files and financial modeling templates for the course?
How long do I have to complete the courses?
Are CFI courses officially accredited?
Are there any additional fees or costs?
What currency are your courses priced in?
How do I earn my certificates?
Can I email the instructor if I have questions?
Will these courses help me advance my career?