Introduction to ESG
Enroll For Free
Beginner level
Approx 1.50h to complete
100% online and self-paced
Introduction to ESG Course Overview
Environmental, Social, and Governance (ESG) has gained increasing attention over the past few years, with many institutional investors investing only in those companies that provide ESG performance reporting. In fact, ESG has considerations relevant to analysts and investors, consumers and employees, and has become a key topic of discussion at the Board table.  This course provides an overview of an ESG framework and how it supports a company's overall risk management. It examines each component in detail and provides insight into how they converge to impact a company and its stakeholders. The course also discusses how to look at corporate pressures & stakeholder expectations and their impact on risk identification and business success. Lastly, we look at key considerations from both the company and investor perspectives, before applying theory to practice in a final case study.
Introduction to ESG Learning Objectives
Upon completing this course, you will be able to:
Explain what ESG is and its relevance to making financial decisions;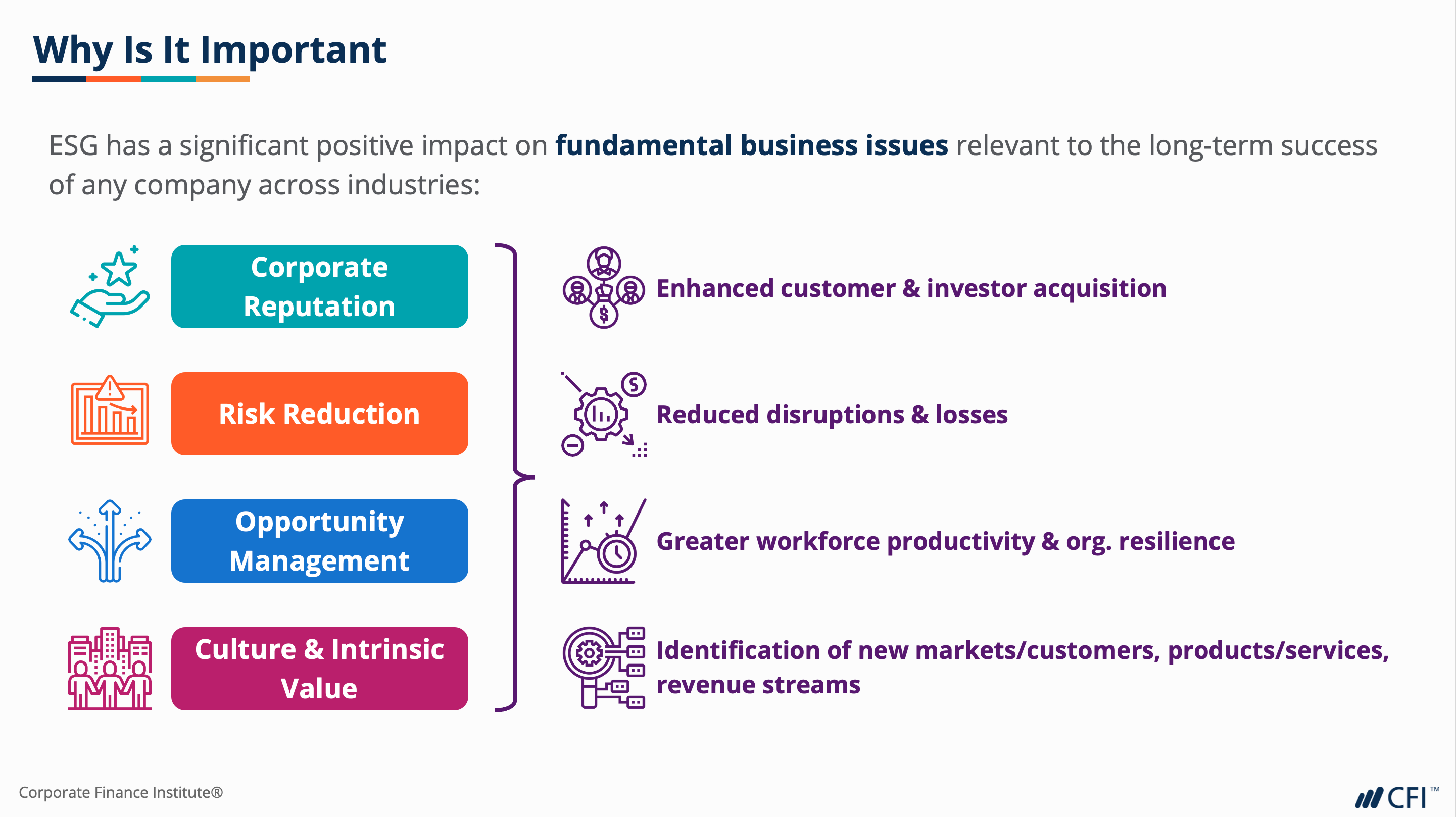 Describe key environmental, social, and governance issues;

Explain how stakeholders influence corporate ESG performance;

Analyze ESG risks and opportunities;

Assess ESG company performance using publicly available information;
Translate ESG information to business intelligence.
Who Should Take This Course?
This Environmental Social Governance (ESG) course is perfect for any analyst who would like to better understand how a company manages risks and opportunities that shifting market & non-market conditions create in today's world. 
This course explores concepts that will be useful for beginner and intermediate level research analysts, banking and investment professionals, or business and finance students seeking to gain further insight into ESG.
The exercises and tools explored in this course will also be useful for any business analyst that wishes to advise public market clients on ESG strategies and improved disclosures. 
Corporate Pressures & Stakeholder Expectations
Key Considerations for Companies & Investors
Case Study & Course Summary
Highly satisfied by the CFI
The course has been very insightful and packed with all the necessary information that I needed
Leon Mandigara
ESG101 - An essential course!
ESG is a topic that all working professionals need to be aware of. This course is clear and concise and invaluable in introducing key principles of ESG
Samantha Schoeman
Introduction to ESG
Just when you think you know it all, along comes this Introduction to ESG, and BOOM! I realize that you can certainly teach an old dog new things. Fast-paced, excellent graphics, great content and a presenters voice that keeps you engaged - this course is outstanding.
Robert Schiers
Good introduction to ESG
It is fairly well-organized and informative class to catch on ESG and motivate us to pursue furthermore on this topic.
Elly Hoseung Lee
See More
Frequently Asked Questions
Can I download the Excel files and financial modeling templates for the course?
How long do I have to complete the courses?
Are CFI courses officially accredited?
Are there any additional fees or costs?
What currency are your courses priced in?
How do I earn my certificates?
Can I email the instructor if I have questions?
Will these courses help me advance my career?