Credit Administration and Documentation
Enroll Now
Free Preview
Intermediate level
Approx 2h to complete
100% online and self-paced
Credit Administration and Documentation Overview
Credit administration and documentation are two of the critical components in managing credit and supporting the credit process. Following proper credit administrative and documentation process allow credit analysts to monitor accounts and identify ways to reduce default risk.
This course will explain the main components of credit administration and documentation. We will go through examples of credit documents to understand the basic format and layout. We will also explore the considerations that should be taken into account when assessing risk ratings.
Credit Administration and Documentation Learning Objectives
Upon completing this course, you will be able to:
Explain the importance of credit administration
Describe credit risk considerations and recognize warning signs
Identify the steps taken when monitoring credit accounts
Recognize the different types of documentation used to support the administrative process
List the key steps in annual review process
Credit Administration and Documentation is a Required Course of CFI's CBCA® Program
CFI's Certified Banking & Credit Analyst (CBCA)® Program offers skills include credit evaluation, documentation, and review procedures. For beginners to advanced users, the CBCA® program is designed to help you become a world-class credit analyst.
Who Should Take This CBCA® Course?
This Credit Administration and Documentation course is perfect for any aspiring credit analysts working in insurance, underwriting, rating agencies, commercial lending, corporate credit analysis, and other areas of credit evaluation.
Get the course in a bundle
Credit Administration and Documentation is part of the Commercial Banking & Credit Analyst (CBCA)™ certification, which includes 35 courses.
Commercial Banking & Credit Analyst (CBCA)™ Certification
All 35 CBCA™ courses
Skills Learned Credit Analysis and Documentation, Risk Mitigation, Writing
Career Prep Rating Agencies, Insurance, Commercial Lending
Prep Courses
7 courses from beginner to intermediate level.
01
Optional
Core Courses
16 courses from beginner to intermediate level.
02
Required
Elective Courses
10 courses in advanced and intermediate levels.
03
Optional
Get Certified
Submit your CBCA™ checklist and order your certificate.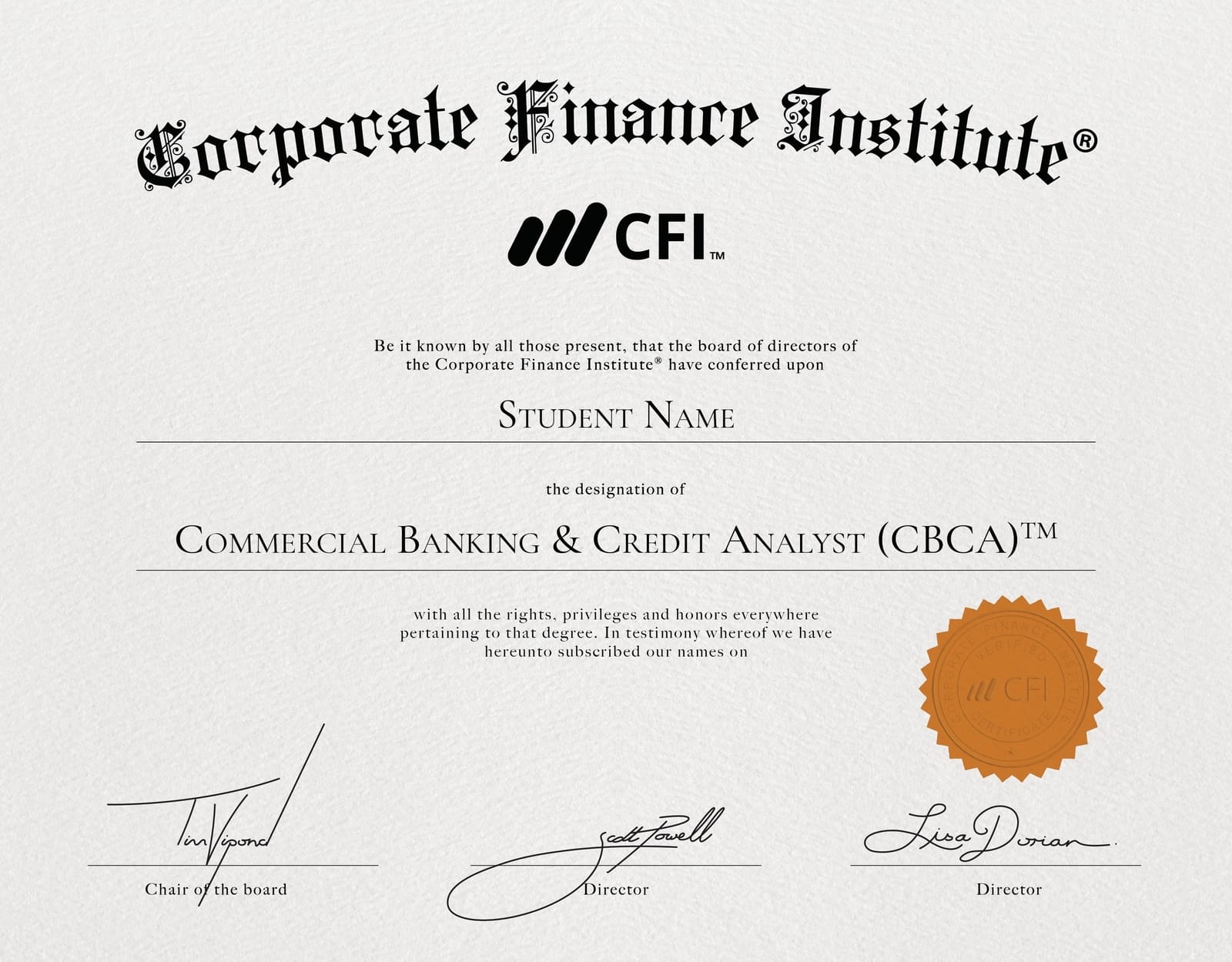 04
Required
Join Our Community
Get access to the Global Corporate Finance Society.
05
Optional
How the Certification Works
Commercial Banking & Credit Analyst (CBCA)™ courses are offered 100% online, allowing you the flexibility to start the Commercial Banking & Credit Analyst (CBCA)™ program anytime and learn when it's most convenient for you.
Students must complete all core and elective courses (18 in total) and demonstrate mastery of the topics through successful completion of course materials, quizzes, and assessments.
Within 48 hours of program completion, your Blockchain Verified (CBCA)™ Certification will be emailed to you.
Credit Administration and Documentation
Valuable nuggets of information provided for a budding Credit Analyst!
Sabrina Murray
Credit Administration and Documentation
Excellent Content and Excellent Delivery
VENUGOPAL RAJAMANURI
ONLINE STUDYING
All thanks goes to the invention of Technology gadgets that most of the people have access to their dream necessities. I mean Online Education. Who on Earth ever thought of learning from just where you are? And at your own schedule? Well, not in the world of us "Old Tradition People". That was who were but not anymore. Thank you CFI for the Opportunity given to me and to the world as a whole. I will forever be grateful. I'm personally responsible for creating awareness to the rest of the people in my circle, society, and my country at large because no one should miss the this opportunity.
NABIRYO SALIMA
Highly recommend.
Highly recommend.
Francine Fabiola PETATO TEWO
See More
Frequently Asked Questions
Can I download the Excel files and financial modeling templates for the course?
How long do I have to complete the courses?
Are CFI courses officially accredited?
Are there any additional fees or costs?
What currency are your courses priced in?
How do I earn my certificates?
Can I email the instructor if I have questions?
Will these courses help me advance my career?