Cash Flow Cycles and Analysis
Enroll Now
Free Preview
Intermediate level
Approx 2.50h to complete
100% online and self-paced
Cash Flow Cycles and Analysis Course Overview
In this Cash Flow Cycles and Analysis course, we look at how companies manage their cash flow. We will explore both the operating cash flow cycle and the investing cash flow cycle. 
We use real-world examples to calculate a company's working capital funding gap. Then we will go over important strategies companies can use to optimize their working capital accounts.
From there we will look at the longer-term investments such as sustaining or expansionary capital expenditures. We will assess the payback time on a project and look at the return on investment.
In the end, we'll combine what we learned and produce a cash flow statement to compare key metrics such as net income, EBITDA, cash flow from operations, and free cash flow.
Throughout the course, we'll be looking at things from both the lender's perspective and the borrower's perspective so you'll have a full picture as a complete credit analyst of how to forecast and optimize cash flow for a business.
Cash Flow Cycles and Analysis Learning Objectives
Upon completing this course, you will be able to: 
Discuss the difference between a company's short-term operating cash flow and long-term investing cash flow
Compare working capital objectives and capital investment objectives
Calculate working capital funding gap, investment payback and return on investment
Use a company's financial statement to conduct a cash flow analysis and compare key metrics
Who should take this course?
This Cash Flow Cycles and Analysis course is perfect for any aspiring credit analysts working in insurance, underwriting, rating agencies, commercial lending, corporate credit analysis, and other areas of credit evaluation.
Cash Flow Cycles and Analysis Is a Required Course of CFI's CBCA® Program
Cash Flow Cycles and Analysis is a core course of CFI's credit analyst certification program. For beginners to advanced users, this program is designed to help you become a world-class credit analyst.
Get the course in a bundle
Cash Flow Cycles and Analysis is part of the Commercial Banking & Credit Analyst (CBCA)™ certification, which includes 35 courses.
Commercial Banking & Credit Analyst (CBCA)™ Certification
All 35 CBCA™ courses
Skills Learned Credit Analysis and Documentation, Risk Mitigation, Writing
Career Prep Rating Agencies, Insurance, Commercial Lending
Prep Courses
7 courses from beginner to intermediate level.
01
Optional
Core Courses
16 courses from beginner to intermediate level.
02
Required
Elective Courses
10 courses in advanced and intermediate levels.
03
Optional
Get Certified
Submit your CBCA™ checklist and order your certificate.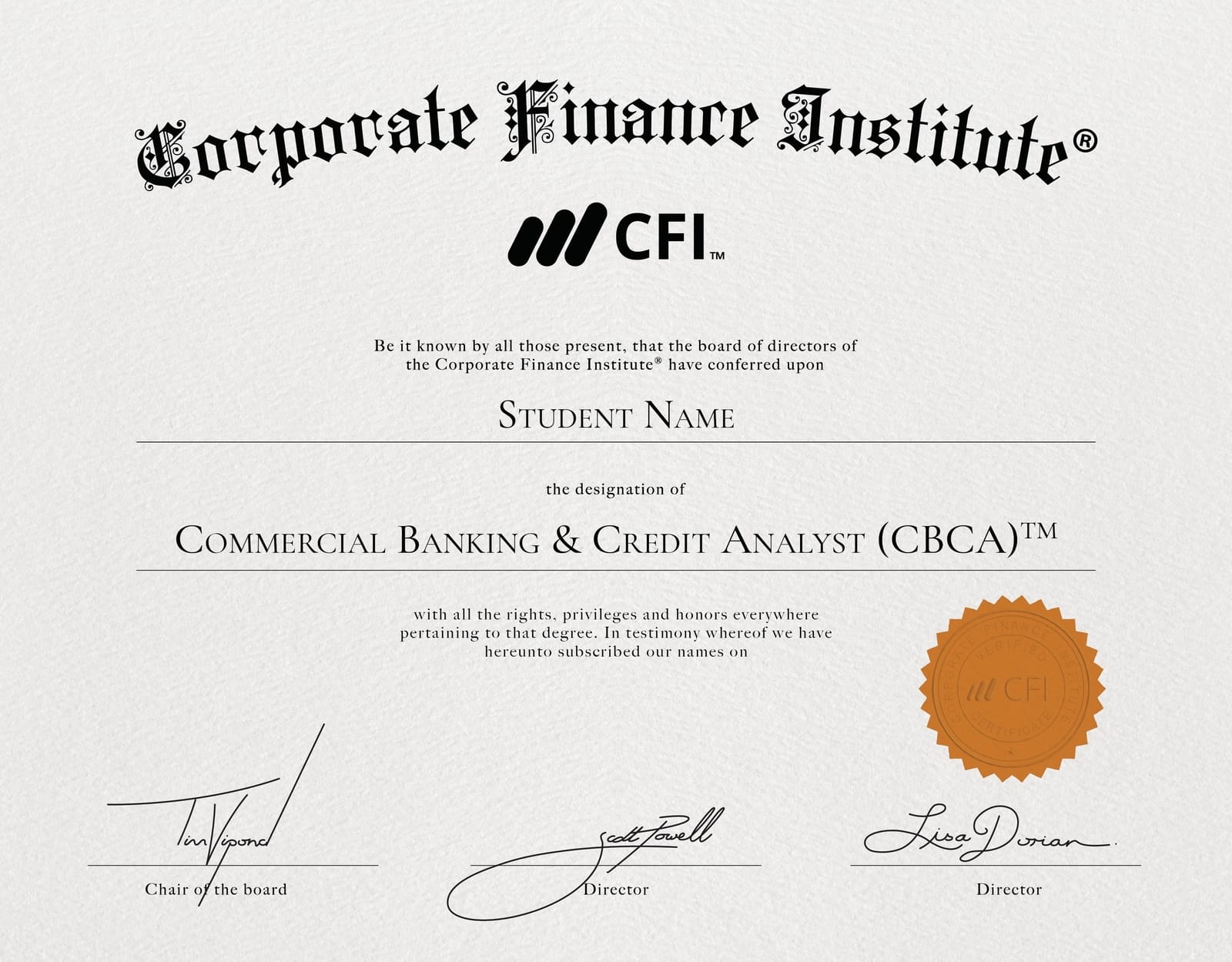 04
Required
Join Our Community
Get access to the Global Corporate Finance Society.
05
Optional
How the Certification Works
Commercial Banking & Credit Analyst (CBCA)™ courses are offered 100% online, allowing you the flexibility to start the Commercial Banking & Credit Analyst (CBCA)™ program anytime and learn when it's most convenient for you.
Students must complete all core and elective courses (18 in total) and demonstrate mastery of the topics through successful completion of course materials, quizzes, and assessments.
Within 48 hours of program completion, your Blockchain Verified (CBCA)™ Certification will be emailed to you.
Fantastic Course with outstanding Delivery
Its one of the fantastic course with outstanding delivery by Tim. The best part of courses by Tim is that he uses case studies during the course to make it better easy to understand for us, however in other courses i have observed that instructor shares course study and ask us to solve by our own, but this is not the case with Tim. Which helps to understand case study very well along with course itself.
Vikash Yadav
Great course, but...
As many other courses I took at CFI, this one is great. However I wish there are more examples for other type of business, e.g. service company or online data service company.
Phoebe Matthews-Cheng
One of the best courses if you work in the Light Asset back Lending space!!
I highly recommend this course to better understand lending contracts where your collateral is based on future cash flows!
Miguel Angel Bonilla Martinez
cash flow analysis
Very gon.od content, good examples and very good presentation.
VENUGOPAL RAJAMANURI
See More
Frequently Asked Questions
Can I download the Excel files and financial modeling templates for the course?
How long do I have to complete the courses?
Are CFI courses officially accredited?
Are there any additional fees or costs?
What currency are your courses priced in?
How do I earn my certificates?
Can I email the instructor if I have questions?
Will these courses help me advance my career?