Subscribe to get access to CBCA™ and other programs
From $497/year
Learn More
Case Study -RockCrusher Overview
In this guided-learning case study, you will assume the role of a credit analyst working in a financial institution. A prospective client has been presented with a borrowing request; together we will review the due diligence package which includes a projection model, a business plan, historical financials, and an industry report - among others. Next, you'll be asked to make recommendations around loan amounts, credit structure, and pricing (in order to optimize risk-adjusted return on capital), before preparing a formal Discussion Paper to present to your prospective client.
We include a solution package and a video debrief to explain the key components of this case. Once you have tried the case yourself, you can review the answer key and the video debriefs to check your analysis.
Recommended Prerequisites
We recommend you to complete the following courses before taking this case study:
RockCrusher Rentals Case Study is Part of CFI's CBCA® Program
CFI's Certified Banking & Credit Analyst (CBCA)® Program offers skills including credit evaluation, documentation, and review procedures. From beginners to advanced users, the CBCA® program is designed to help you become a world-class credit analyst.  
Who Should Take This CBCA® Case Study?
This case study is perfect for any aspiring credit analyst working in insurance, underwriting, rating agencies, commercial lending, corporate credit analysis, and other areas of credit evaluation. 
Become a certified Commercial Banking & Credit Analyst (CBCA)™
Case Study - RockCrusher Rentals is part of the Commercial Banking & Credit Analyst (CBCA)™ certification, which includes 36 courses.
Commercial Banking & Credit Analyst (CBCA)™ Certification
Skills Learned Credit Analysis and Documentation, Risk Mitigation, Writing
Career Prep Rating Agencies, Insurance, Commercial Lending
Prep Courses
7 courses from beginner to intermediate level.
01
Optional
Core Courses
16 courses from beginner to intermediate level.
02
Required
Elective Courses
11 courses in advanced and intermediate levels.
03
Optional
Get Certified
Submit your CBCA™ checklist and order your certificate.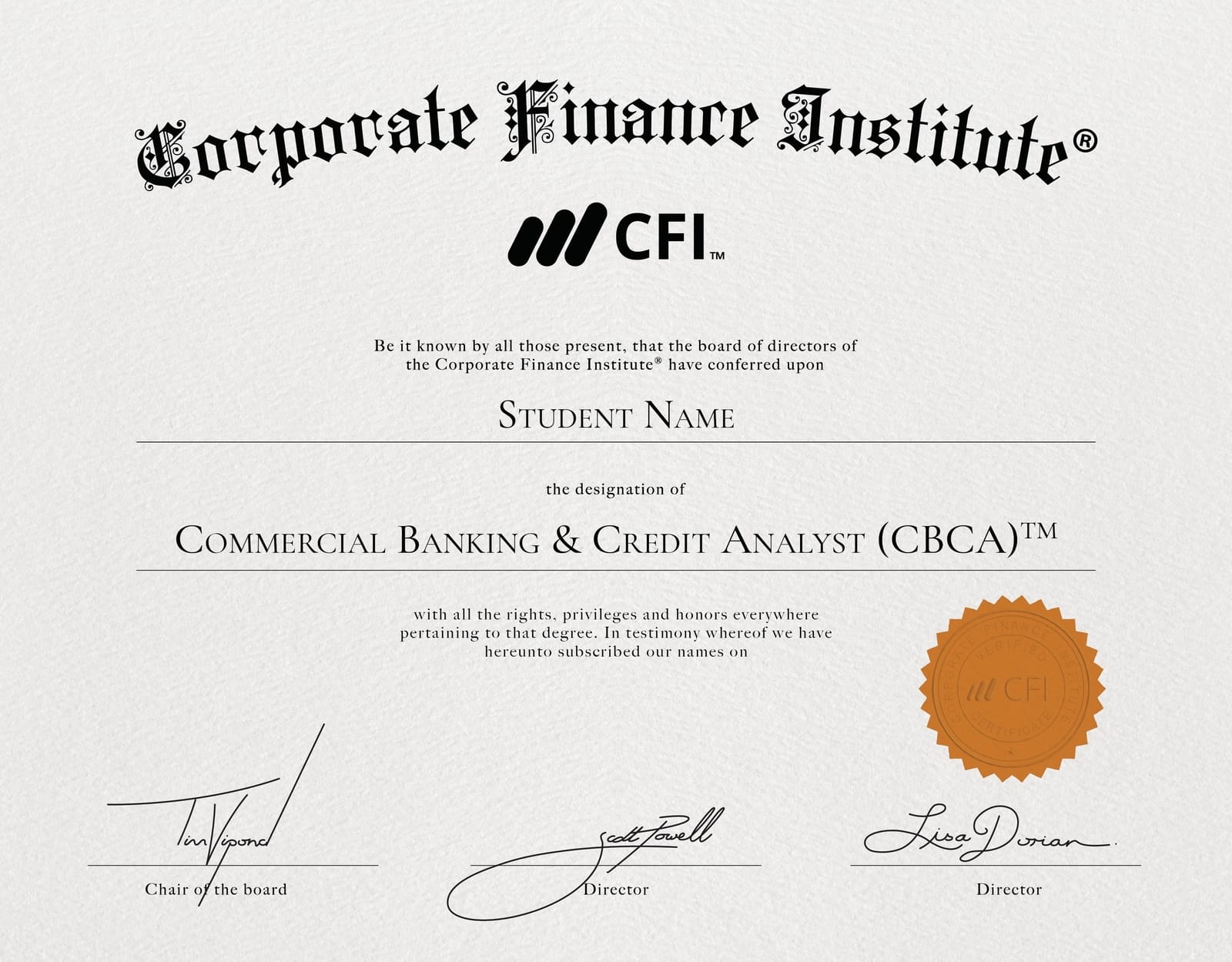 04
Required
Join Our Community
Get access to the Global Corporate Finance Society.
05
Optional
How the Certification Works
Commercial Banking & Credit Analyst (CBCA)™ courses are offered 100% online, allowing you the flexibility to start the Commercial Banking & Credit Analyst (CBCA)™ program anytime and learn when it's most convenient for you.
The program is a part of the All Access Subscription, which includes all programs and courses.
CFI courses are designed by instructors with over 21 years of financial analyst training experience.
Students must complete all core and elective courses (18 in total) and demonstrate mastery of the topics through successful completion of course materials, quizzes, and assessments.
Within 48 hours of program completion, your Blockchain Verified (CBCA)™ Certification will be emailed to you.
LEARNING FROM WHERE YOU ARE.
Are you out there, looking for a qualified institution to advance your career from? Well CFI has got you sorted, with its professional courses that is CBCA, FMVA, CMSA, BIDA etc.
NABIRYO SALIMA
Frequently Asked Questions
Can I download the Excel files and financial modeling templates for the course?
How long do I have to complete the courses?
Are CFI courses officially accredited?
Are there any additional fees or costs?
What currency are your courses priced in?
How do I earn my certificates?
Can I email the instructor if I have questions?
Will these courses help me advance my career?
What is the price of the subscription?
What is included in the subscription?