Business Writing Fundamentals
Enroll Now
Free Preview
Intermediate level
Approx 2h to complete
100% online and self-paced
Business Writing Fundamentals Course Overview
This business writing fundamentals course will show you the most effective way to communicate information. We will cover how to prepare, structure, and style your writing to improve the chances of getting your recommendations approved. 
By using business writing best practices, we make writing easy to read and understand. This course is essential for credit analysts but also for any business person in any industry.
Business Writing Course Learning Objectives
This course provides a guideline for effective business writing. We will show you how to organize your thoughts and findings to save your company time and aid decision-making.
Upon completing this course, you will be able to:
Determine an objective and audience to focus your writing on
Capture attention with proper writing structure, paragraph form, and plain language
Suggest conclusions and actions to address the needs or issues identified in your writing
Use best practices to improve the chances of your suggestions being accepted
Test your writing to see if it optimizes the reader's mental effort
Business Writing Fundamentals is a Required Course of CFI's CBCA® Program
CFI's Certified Banking & Credit Analyst (CBCA)® Program offers skills including credit evaluation, documentation, and review procedures. From beginners to advanced users, the CBCA® program is designed to help you become a world-class credit analyst. 
Who Should Take This CBCA® Course?
This business writing course is perfect for any aspiring credit analyst working in insurance, underwriting, rating agencies, commercial lending, corporate credit analysis, and other areas of credit evaluation. Business writing is a vital skill to have for any business person.
Get the course in a bundle
Business Writing Fundamentals is part of the Commercial Banking & Credit Analyst (CBCA)™ certification, which includes 35 courses.
Commercial Banking & Credit Analyst (CBCA)™ Certification
All 35 CBCA™ courses
Skills Learned Credit Analysis and Documentation, Risk Mitigation, Writing
Career Prep Rating Agencies, Insurance, Commercial Lending
Prep Courses
7 courses from beginner to intermediate level.
01
Optional
Core Courses
16 courses from beginner to intermediate level.
02
Required
Elective Courses
10 courses in advanced and intermediate levels.
03
Optional
Get Certified
Submit your CBCA™ checklist and order your certificate.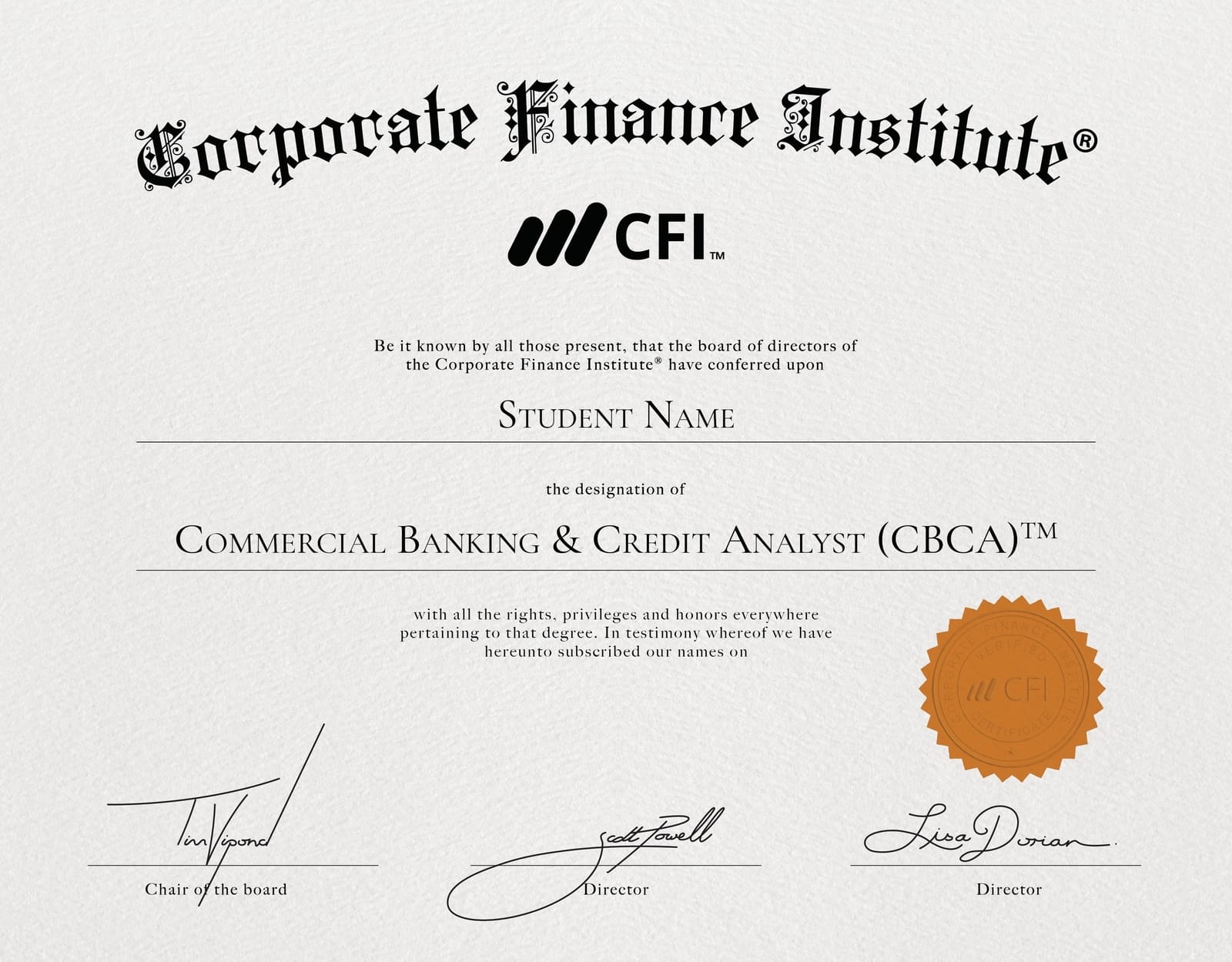 04
Required
Join Our Community
Get access to the Global Corporate Finance Society.
05
Optional
How the Certification Works
Commercial Banking & Credit Analyst (CBCA)™ courses are offered 100% online, allowing you the flexibility to start the Commercial Banking & Credit Analyst (CBCA)™ program anytime and learn when it's most convenient for you.
Students must complete all core and elective courses (18 in total) and demonstrate mastery of the topics through successful completion of course materials, quizzes, and assessments.
Within 48 hours of program completion, your Blockchain Verified (CBCA)™ Certification will be emailed to you.
Business writing
Thank you so much for the course. Communicating effectively is an important skill to have. This course breaks it down in a very understandable way, making it easy for me to apply at the work place.
Macdonald Ossuetta
BUSINESS WRITING FUNDAMENTALS
VERY GOOD CONTENT AND VERY GOOD DELIVERY
VENUGOPAL RAJAMANURI
Great techniques and tools to improve business writing
The course provided great techniques and tools to improve business writing. 5Ws + H, SCQA, Plain Language, FOG Index, among others.
Omar Poventud Miranda
Highly recommend.
Highly recommend.
Francine Fabiola PETATO TEWO
See More
Frequently Asked Questions
Can I download the Excel files and financial modeling templates for the course?
How long do I have to complete the courses?
Are CFI courses officially accredited?
Are there any additional fees or costs?
What currency are your courses priced in?
How do I earn my certificates?
Can I email the instructor if I have questions?
Will these courses help me advance my career?