Banking Products and Services
Enroll For Free
Beginner level
Approx 4.0 to complete
100% online and self-paced
Banking Products and Services Course Overview
In this Banking Products and Services course, we will give an overview of all the major products and services offered by banks around the world. This course is designed to provide you knowledge of the various products and services you may encounter as you continue your career as a financial analyst. By looking into banking for consumers, banking for businesses, investment banking and corporate finance, you will be able to make better decisions regarding what sectors of banking you want to work in. This course is important for anyone who wants to start their path to becoming a world-class financial analyst.
Banking Products and Services Learning Objectives
Upon completing this course, you will be able to:
Identify the products and services offered by banks to consumers and retail clients
Recognize the products and services offered by banks to businesses and corporations of all sizes
Recall the fee structures of banks and how they make money from each product
Understand the product offerings and groups within investment banks
Identify how banks function in preparation for other courses and your own career objectives
Banking Products and Services Products is a Prep Course of CFI's CBCA® Program
CFI's Certified Banking & Credit Analyst (CBCA)® Program offers skills including credit evaluation, documentation, and review procedures. For beginners to advanced users, the CBCA® program is designed to help you become a world-class credit analyst.
Who Should Take This CBCA® Course?
This Banking Products and Services Course is perfect for anyone looking to become a financial analyst. This course serves as a primer for all of the main products that financial analysts will need to be familiar with as they are deciding their career path. By familiarizing yourself with the various banking products and services available in the industry, you will be able to better choose how you specialize and what banking products you want to work with.
Get the course in a bundle
Banking Products and Services is part of the Commercial Banking & Credit Analyst (CBCA)™ certification, which includes 34 courses.
Commercial Banking & Credit Analyst (CBCA)™ Certification
All 34 CBCA™ courses
Skills Learned Credit Analysis and Documentation, Risk Mitigation, Writing
Career Prep Rating Agencies, Insurance, Commercial Lending
Prep Courses
6 courses from beginner to intermediate level.
01
Optional
Core Courses
15 courses from beginner to intermediate level.
02
Required
Elective Courses
9 courses in advanced and intermediate levels.
03
Optional
Get Certified
Submit your CBCA™ checklist and order your certificate.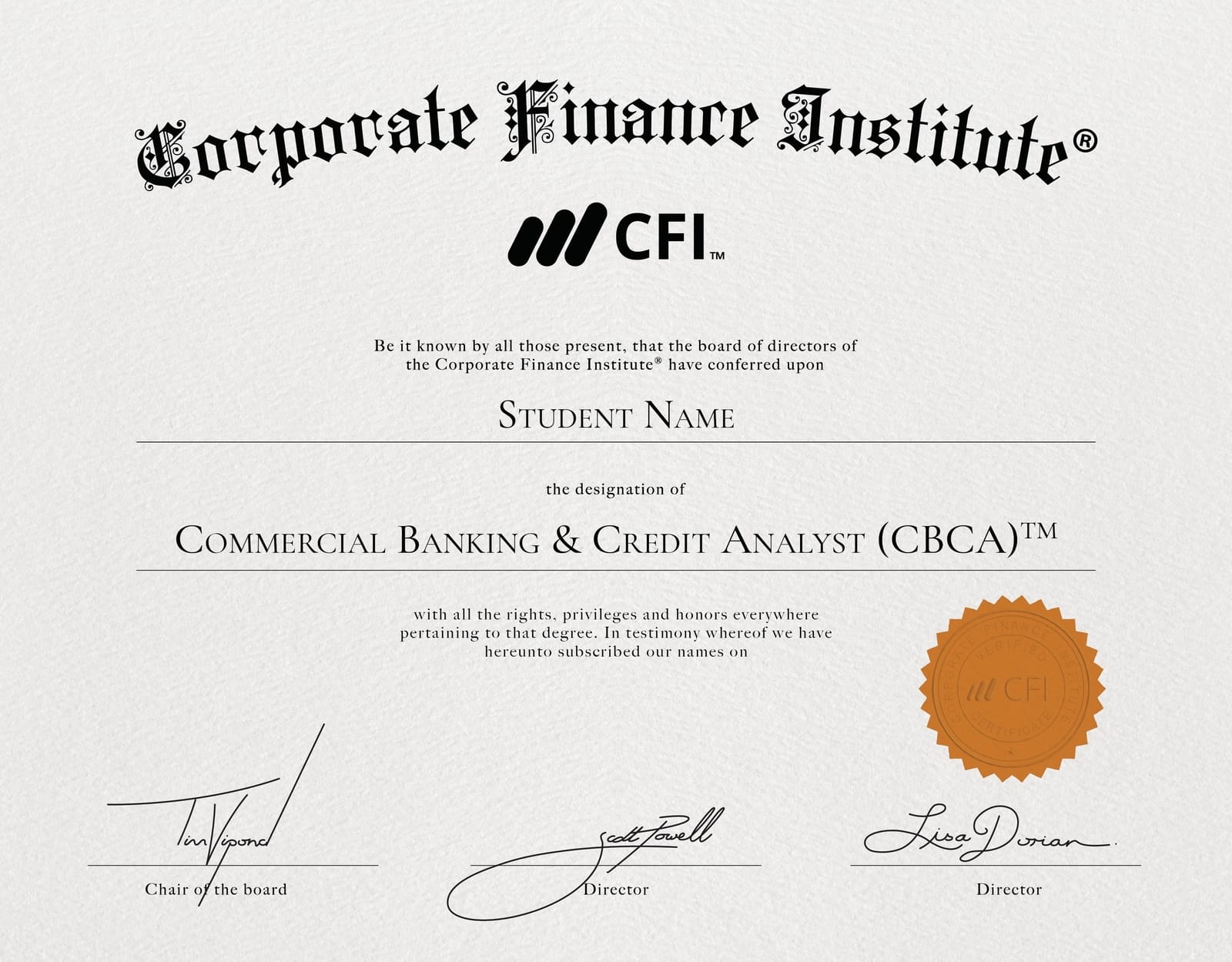 04
Required
Join Our Community
Get access to the Global Corporate Finance Society.
05
Optional
How the Certification Works
Commercial Banking & Credit Analyst (CBCA)™ courses are offered 100% online, allowing you the flexibility to start the Commercial Banking & Credit Analyst (CBCA)™ program anytime and learn when it's most convenient for you.
Students must complete all core and elective courses (18 in total) and demonstrate mastery of the topics through successful completion of course materials, quizzes, and assessments.
Within 48 hours of program completion, your Blockchain Verified (CBCA)™ Certification will be emailed to you.
Student comment
Overall I love all the classes I have taken through CPI. All the instructors are kind and patient. They are very experienced in the programs they are teaching. I have recommended this site to all my friends, family, and employer. I look forward to taking more classes from CPI Victor Mogoi
Victor mogoi

Banking Products and Services is a must to certification program for a holistic overview of all banking and services across spectrum!
Adil Kamal
Gratitude
I enrolled for this course as an Banking and Finance graduate looking to expand her knowledge and i did myself a favour.Im so happy for this opportunity. Everything is perfect ,the instructor is exceptionable. Thank you
Bonolo Nkhumisang
I like it
Best certification cource
Prachi Rathod
See More
Frequently Asked Questions
Can I download the Excel files and financial modeling templates for the course?
How long do I have to complete the courses?
Are CFI courses officially accredited?
Are there any additional fees or costs?
What currency are your courses priced in?
How do I earn my certificates?
Can I email the instructor if I have questions?
Will these courses help me advance my career?