Assessing Drivers of Business Growth
Enroll Now
Free Preview
Intermediate level
Approx 2.0 to complete
100% online and self-paced
Assessing Drivers of Business Growth Overview
Understanding the key drivers of a business' growth is vital to determining the company's debt capacity and its ability to fulfill debt with its cash flows. This helps credit analysts make sound credit decisions. In this Assessing Drivers of Business Growth course, we will look at the overall framework for assessing business growth including analyzing the external economy, the industry, and the company itself.
We will explore the commonly used tools by credit analysts to perform analyses on various aspects of a company and summarize the external and internal factors impacting the business' growth. By the end of this course, you should feel comfortable determining whether a company is in good operational or financial condition.
Reading Business Financial Information Learning Objectives
Upon completing this course, you will be able to:
Understand the framework for assessing corporate business growth
Analyze the external economy that a company operates in using PESTEL analysis
Analyze a company's industry by looking at Porter's five forces and the industry lifecycle
Assess a company's lifecycle, risks, and competitive advantage
Perform SWOT analysis to evaluate a company's internal and external environment
Assessing Drivers of Business Growth is a Required Course of CFI's CBCA® Program
CFI's Certified Banking & Credit Analyst (CBCA)® Program offers skills include credit evaluation, documentation, and review procedures. For beginners to advanced users, the CBCA® program is designed to help you become a world-class credit analyst. 
Who Should Take This CBCA® Course?
This Assessing Drivers of Business Growth course is perfect for any aspiring credit analysts working in insurance, underwriting, rating agencies, commercial lending, corporate credit analysis, and other areas of credit evaluation.
Get the course in a bundle
Assessing Drivers of Business Growth is part of the Commercial Banking & Credit Analyst (CBCA)™ certification, which includes 34 courses.
Commercial Banking & Credit Analyst (CBCA)™ Certification
All 34 CBCA™ courses
Skills Learned Credit Analysis and Documentation, Risk Mitigation, Writing
Career Prep Rating Agencies, Insurance, Commercial Lending
Prep Courses
6 courses from beginner to intermediate level.
01
Optional
Core Courses
15 courses from beginner to intermediate level.
02
Required
Elective Courses
9 courses in advanced and intermediate levels.
03
Optional
Get Certified
Submit your CBCA™ checklist and order your certificate.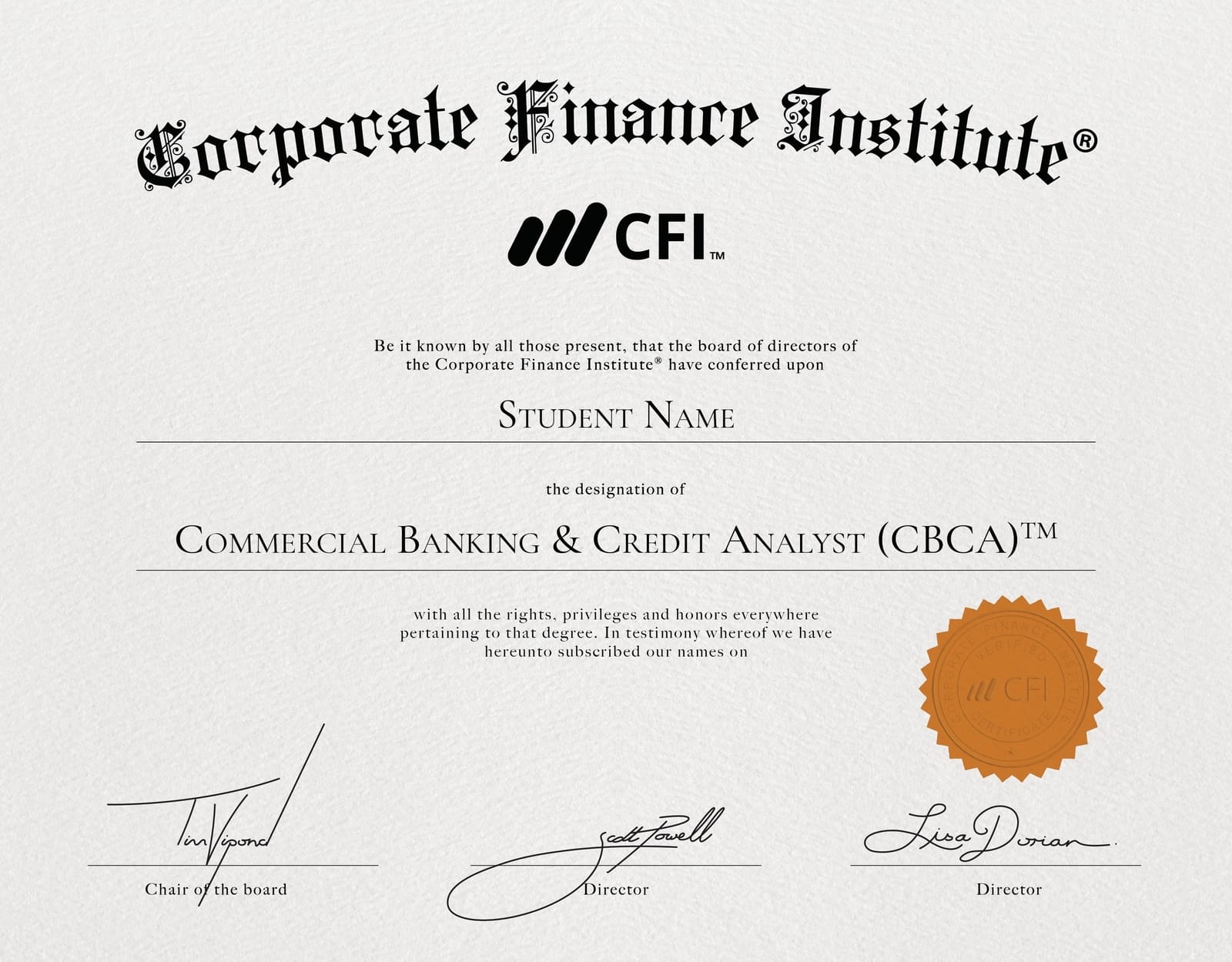 04
Required
Join Our Community
Get access to the Global Corporate Finance Society.
05
Optional
How the Certification Works
Commercial Banking & Credit Analyst (CBCA)™ courses are offered 100% online, allowing you the flexibility to start the Commercial Banking & Credit Analyst (CBCA)™ program anytime and learn when it's most convenient for you.
Students must complete all core and elective courses (18 in total) and demonstrate mastery of the topics through successful completion of course materials, quizzes, and assessments.
Within 48 hours of program completion, your Blockchain Verified (CBCA)™ Certification will be emailed to you.
GOOD CONTENT
this course has great content and is super relevant taking the needs of the banking industry into consideration.
Mitra S. Jaglal
Drivers of Business Growth
Excellent Content, case study and overall delivery.
VENUGOPAL RAJAMANURI
Engaging Course and Examples
CFI lectures continue to deliver top of the range clear, concise strategies, tools and techniques to analyze the external environment, industry and company as a whole. This is great skill set required by the credit analyst.
Franklin Oben Fobi
Easy to comprehend
The subject is comprehensive and easy to comprehend.
Arvind Kumar
See More
Frequently Asked Questions
Can I download the Excel files and financial modeling templates for the course?
How long do I have to complete the courses?
Are CFI courses officially accredited?
Are there any additional fees or costs?
What currency are your courses priced in?
How do I earn my certificates?
Can I email the instructor if I have questions?
Will these courses help me advance my career?