Mergers & Acquisitions (M&A) Modeling
Subscribe
Advanced level
Approx 8h to complete
100% online and self-paced
Subscribe to get access to FMVA® and other programs
From $497/year
Learn More
Recommended Prep Courses
These preparatory courses are optional, but we recommend you to complete the stated prep course(s) or possess the equivalent knowledge prior to enrolling in this course:
Mergers and Acquisitions (M&A) Modeling Course
Welcome to CFI's advanced financial modeling course on mergers and acquisitions (M&A).  This course is designed for professionals working in investment banking, corporate development, private equity, and other areas of corporate finance that deal with analyzing M&A transactions.
M&A Modeling Course Objectives
This advanced financial modeling course has several objectives including:
Learn how to structure an M&A model in the most efficient way
Set up all the assumptions and drivers required to build out the M&A model
Calculate all the necessary adjusting entries required to create a post-transaction balance sheet
Integrate the acquirer and the target into a pro forma model
Calculate the accretion or dilution of key per share metrics post-transaction
Perform sensitivity analysis on key assumptions and assess the overall impact of the transaction
Reasons to take this advanced financial modeling course
This class is perfect for anyone who wants to learn how to build a financial model for mergers and acquisitions from the bottom up.  The video-based lessons will teach you all the formulas and functions to calculate stub periods, outline sources and uses of cash, perform a purchase price allocation and determine goodwill, create multiple scenarios for synergies and other key assumptions, and integrate all of the above into a well laid out pro forma model.
In addition to learning the detailed mechanics of how to build the model, students will also learn how to assess the impact of the transaction through accretion/dilution analysis and impact on the implied share price (intrinsic value per share).  By performing sensitivity analysis, users will understand how a change in assumptions impacts future outcomes of the merger or acquisition.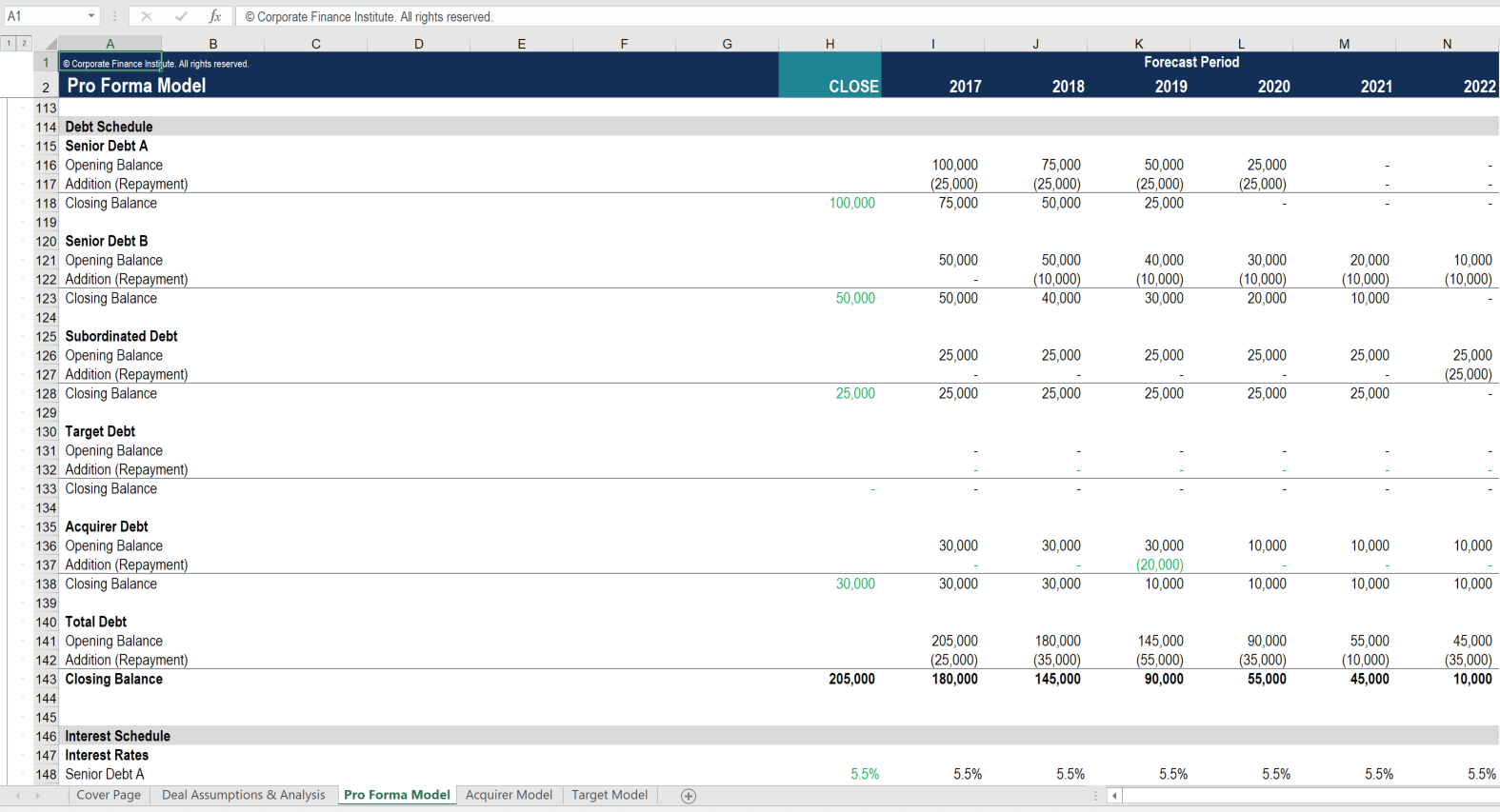 Mergers and acquisitions course case study
This course is built on a case study of Online Company Inc acquiring Brick 'n' Mortar Co.
Through the course of the transaction, students will learn about:
The construction of a detailed Pro Forma model
Analysis of synergies, revenue enhancements, cost structures
Integration considerations
Accretion / dilution analysis
Deal terms and structuring
The strategic impact of combining the businesses
Share price impact
What's included in the M&A course?
This mergers and acquisitions course includes all of the following:
Blank M&A model template (Excel)
Completed M&A model template (Excel)
4+ hours of detailed video instruction
Certificate of completion


Financial analyst certification
For beginners to advanced users, this mergers and acquisitions (M&A) modeling course is designed to teach you how to be a complete financial analyst. 
This class is one of the 3 required "Elective" courses for CFI's financial analyst training program, which grants the Financial Modeling & Valuation Analyst (FMVA) certification.
Become a certified Financial Modeling & Valuation Analyst (FMVA)®
Mergers & Acquisitions (M&A) Modeling is part of the Financial Modeling & Valuation Analyst (FMVA)® certification, which includes 30 courses.
Financial Modeling & Valuation Analyst (FMVA)® Certification
Skills Learned Financial Modeling and Valuation, Sensitivity Analysis, Strategy
Career Prep Investment Banking and Equity Research, FP&A, Corporate Development
Prerequisite Courses
7 courses from beginner to intermediate level.
01
Optional
Core Courses
11 courses from beginner to intermediate level.
02
Required
Elective Courses
Take 3 out of 11 courses at an advanced level.
03
Required
Get Certified
Submit your FMVA® checklist and order your certificate.
04
Required
Join Our Community
Get access to the Global Corporate Finance Society.
05
Optional
How the Certification Works
FMVA® Financial Analyst Certification courses are offered 100% online, allowing you the flexibility to start the financial analyst program anytime and learn when it's most convenient for you.
The program is a part of the All Access Subscription, which includes all programs and courses.
CFI courses are designed by instructors with over 21 years of financial analyst training experience.
Students must complete all core and elective courses (14 in total) and demonstrate mastery of the topics through successful completion of course materials, quizzes, and assessments.
Within 48 hours of program completion, your Blockchain Verified FMVA Certification will be emailed to you.
Financial Risk Analyst
Excellent!
Vinodh Kumar Soundararajan
Missing piece of the Valuation Modeling Course Part 2
This course does an excellent job of walking us through building a complex M&A model for the merger of two companies. If you took the Valuation Modeling Course Part 2 and felt it missed some practical grounding, this is it. I recommend this to everyone who is an M&A practitioner.
Dans Jurcāns
All subject are good and challenging
All Subject are well Done, We just try . keep trying We can do It.
I Wayan Subagia
Excellent!
I absolutely loved this course!
Mikhail Powell
See More
Frequently Asked Questions
How do I enroll in this course?
Are there any additional fees or costs?
What currency are your courses priced in?
Can I download the Excel files and financial modeling templates for the course?
How long do I have to complete the courses?
Are CFI courses officially accredited?
How do I earn my certificates?
Can I email the instructor if I have questions?
Will these courses help me advance my career?
What is included in the subscription?